Head
(1968)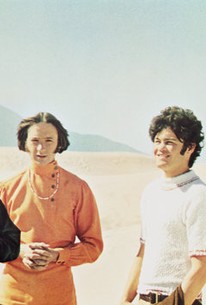 Movie Info
The Monkees -- Mickey Dolenz, Mike Nesmith, Davey Jones, and Peter Tork -- didn't really enjoy being labelled the pre-Fab Four. They expressed their displeasure in this non-sequitur masterpiece. This film literally has no plot; it is instead a patchwork of loopy sight gags, instant parodies, and musical numbers.
News & Interviews for Head
Audience Reviews for Head
½
The Pre-Fab Four's flat out denial of their pop superstar crown, their biting the hand that feeds them, seemingly aimless and without direction, but actually filled that same. None of their well known pop standards are here, but rather some intriguing new songs, some in the vein of (gasp!) Pink Floyd at the same time! You'll either get it or you won't, love it ... or leave it. It's a masterpiece in my opinion. Look for Frank Zappa advising the late Davy Jones to work more on his music and less on his dancing (Jones has an beautiful dance routine here).
Kevin M. Williams
Super Reviewer
i think it probably helps to be high during this but it is a fun ride
Stella Dallas
Super Reviewer
½
Head really shines as the anti-Hard Day's Night. It takes all the pointlessness and over the top cinema verite and makes a complete mockery of it. This is so fragmented, so conceptual and so bizarre that most people won't know what they've just watched. However, this Is one of the most well done and certainly the most original movie about a band that's ever been made. It actually never focuses on the music itself, which is absolutely hilarious. While it's in the background, at no point is this movie supposed to be concerned about its stars or their music. Bob Rafelson's complete mind trip is circular and complex in nature, but extremely fun to watch and fascinating if nothing else.
Conner Rainwater
Super Reviewer
Head Quotes
| | |
| --- | --- |
| Peter: | Nobody ever lends money to a man with a sense of humor. |
| | |
| --- | --- |
| Himself: | Mike: All right, need a volunteer, we're out of ammo. |
| Mike: | All right, need a volunteer, we're out of ammo. |
| Himself: | Peter: I'll go. |
| Peter: | I'll go. |
| Himself: | Mike: See that you do. |
| Mike: | See that you do. |
| | |
| --- | --- |
| Himself: | Peter: Everybody's where they wanna be. |
| Peter: | Everybody's where they wanna be. |
| Himself: | Mickey: That is a particularly inept thing to say, Peter, considering that we are in a vacuum cleaner. |