The Crusades
(1935)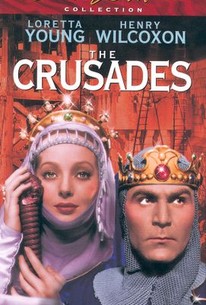 Movie Info
The Holy Wars are given the usual overblown Cecil B. DeMille treatment in The Crusades. It all begins in the 12th-century AD, when Jerusalem falls into the hands of the Saracens, and the Christians are slaughtered or sold into slavery. A holy man known as The Hermit (C. Aubrey Smith) rallies the rulers of England and Europe to launch a Crusade to reclaim Jerusalem in the name of Christianity. Among those embarking upon this massive undertaking is England's King Richard the Lion-Hearted (played as a swaggering roughneck by Henry Wilcoxon), who finances his knights by marrying wealthy French princess Berengaria (Loretta Young) sight unseen. Saladin (Ian Keith), the elegant and well-spoken ruler of the Saracens, attempts to stave off the crusaders by kidnapping Berengaria and holding her hostage. Sensing that he can never win against so formidable a collection of foes, Saladin eventually opens the gates of Jerusalem to all but Richard the Lion-Hearted, with whom he has a personal score to settle. In the film's most memorable scene, the fundamental difference between the boorish Richard and the cultured Saladin is demonstrated when the Saracen ruler delicately cleaves Berengaria's silk scarf in twain with his gleaming sword. It took a great deal of nerve to depict the film's hero as a thuggish brute and the nominal villain as the most sympathetic character in the story, but DeMille gets away with it in The Crusades, and still has time left over to deliver his usual quota of thrills, pageantry, convoluted history and campy dialogue. And yes, that is Ann Sheridan as a Christian captive in the opening scenes.
Critic Reviews for The Crusades
Audience Reviews for The Crusades
½
One of the interesting phenomena surrounding DeMille is how he gets damnation for essentially being himself --- and his productions too. Over-the-top? Bombastic? Melodramatic? And yet these very traits also "sold" his work. You can't please all the people all the time. Fast and loose with the minutia of truth? Okay. But epic entertainment? OKAY. Loretta Young is saintly and alluring. Henry Wilcoxin is dynamic (why he wasn't a bigger star I don't know). And the battle scenes do the trick. Alan Hale - one of the great character actors!
Kevin M. Williams
Super Reviewer
The Crusades Quotes
There are no approved quotes yet for this movie.