The Chase
(1946)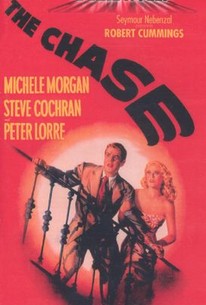 AUDIENCE SCORE
Critic Consensus: No consensus yet.
Movie Info
Chuck Scott gets a job as chauffeur to tough guy Eddie Roman; but Chuck's involvement with Eddie's fearful wife becomes a nightmare.
Critic Reviews for The Chase
All Critics (3) | Fresh (1) | Rotten (2) | DVD (1)
Not so ingenious and engaging as other, Chandler-esque convolutions.
A last-act plot twist, equally likely to alienate as to fascinate, makes Arthur Ripley's obscure The Chase an especially bizarre jaunt through a nightmarish crime world.
This film noir is memorable for its dark dream-like feel, as reality becomes indistinguishable from the dream sequences.
Audience Reviews for The Chase
½
Bob Cummings plays a down-on-his-luck returning war vet who's hired by a mobster to chauffeur him around Miami Beach. There's a problem. The nearly psycho mobster's got a beautiful and unhappy wife. There's another problem. The mobster's got nearly psycho associate: Peter Lorre (the best of the film). There's another problem. Maybe the ex-sailor's a little crazy since the war, maybe he's imagining things. Maybe. Is the mobster trying to kill him? Did the wife make a pass at him? Why's he got a chauffeur's uniform on? Sliding reality's the thing here, confusion every moment. Maybe you like that in a noir. Me, not so much.
Kevin M. Williams
Super Reviewer
½
Chuck Scott, a returning WW II soldier, takes a job as driver to Eddie Roman, a vicious gangster who will typically stop at nothing to get what he wants. Roman, who has a particularly sadistic side to his nature, likes to test new drivers and so has an accelerator in the back seat of his car so that he can "take over" total control whenever he wants. This bizarre quirk drives Roman's right hand man, played by Peter Lorre, understandably crazy. Scott passes the test and gets the job. He then proceeds to fall in love with Roman's wife, who is so frightened of her husband that she tries to commit suicide. The two decide to run away together, but Roman finds out about their plans and the chase is on. Or is it? This is probably the most dreamlike film noir ever made, due in great part to the plot by Cornell Woolrich----the master of bizarre situations------from his novel THE BLACK PATH OF FEAR. It's a bit confusing, but that only adds to it dreamlike atmosphere. Robert Cummings, Steve Cochran, Peter Lorre, Michele Morgan, and even Don Wilson, more famous as the announcer on the Jack Benny Television Show, are perfect in their roles. And Lloyd Corrigan has a small but dramatic scene where Roman and Lorre decide to put the bite on him in the wine cellar. It's an obscure film noir that's seldom shown on televison I got my copy from VCI, 5 Stars 4-1-13
Bruce Bruce
Super Reviewer
The Chase Quotes
There are no approved quotes yet for this movie.