Junior
(1994)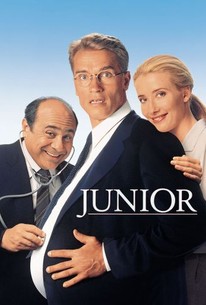 TOMATOMETER
AUDIENCE SCORE
Critic Consensus: Even with an abundance of talent behind and in front of the camera, Junior doesn't quite deliver enough laughs to nurse its zany high-concept idea.
Movie Info
Ultimate manly man Arnold Schwarzenegger learns what it's like to be an expectant mother in director Ivan Reitman's high-concept comedy. Schwarzenegger plays Dr. Hess, a medical researcher working on a revolutionary drug to help mothers carry endangered infants to term. When government regulations prevent Dr. Hess from testing the drug through normal channels, his partner Dr. Arbogast (Danny DeVito) develops an unorthodox solution: they will steal a female egg and implant it in Hess, who will carry the child himself. Predictably, much of the subsequent humor centers on the incongruous sight of the muscular Schwarzenegger undergoing the trials and tribulations of pregnancy, from morning sickness to labor pains. Emma Thompson returns to her comic roots and provides romantic interest as an incorrigibly clumsy but intelligent scientist who catches on to Hess' deception. Reitman, Schwarzenegger, and DeVito had previously had a hit with Twins (1988), which revolved around a similarly ludicrous medical premise, but they failed to repeat that film's success here, as audiences largely ignored the film and reviewers criticized the humor as disappointingly obvious.
Critic Reviews for Junior
Audience Reviews for Junior
½
okay we get it, schwarzenegger is big and devito is small. please stop! it's jumped the shark! this film again is just some funny lines here or there from arnold only because it's arnold. scripts bad and i put this under a bad carrer move for devito.
Joshua Wilburn
Super Reviewer
Junior is a poorly constructed comedy that should never have been made. The idea behind the film was pretty original, but director Ivan Reitman doesn't know how to properly direct, and make this film watchable. This had the potential of being a witty, original comedy, and though it's original, Junior is a poorly constructed film with an awful script. The film might have had a good premise, but overall it fails to entertain. This one of Arnold Schwarzenegger's worst films and I think that the film might have worked if he wasn't on board. I mean Schwarzenegger is an action star, not a comedy star. Junior is a poor attempt at a comedy, and though the idea might have been interesting, the end result is a film that is dreadful and not worth watching. Ivan Reitman has made one of his worst films with this film, and it could have been much better than this. The film suffers from an awful script, and though it's amusing at time, overall Junior fails to be a memorable comedy and really doesn't cut it. Maybe the film would have worked if the script had been revised a few times. Unfortunately the film is awful, and the plot is poor and the cast though trying their best to make the film entertaining, simply are wasted and just don't deliver anything good on-screen. This might have been a good comedy, but instead it ends up being an awful, forgettable comedy that is definitely not worth your time.
½
Can you really blame me for taking an interest with the events of the past couple of weeks? Looking over the criteria, why wouldn't this be a home run? The director is Ivan Reitman, who makes decent comedies, the cast includes Oscar winner Emma Thompson and always versatile Danny Devito, and the premise and script are pretty decent. So what could be so terrible about this? Ah yes, The Terminator plays the lead role of Dr. Hess, an impregnated man. The critics have ripped this film to shreds, deeming it one of the worst in recent history. This is a bit harsh, even for such a ridiculous movie. Yeah, there are some truly corny and/or creepy scenes, including a dance sequence between Hess and fellow scientist Dr. Reddin (Thompson) where Hess is seven months along, and Reddin flips a shoe onto a dining room table. Still, the only thing that irked me was Arnold. Arnold was never meant to broaden his talents by foraying into comedies, especially not when his character is so cutesy. The Terminator, blowing shit up and trying to kill John Connor? But of course. Dressing in drag while doing lamaze exercises. Not so much. Plus Schwartzenegger's irritating voice can work wonders in films like Jingle All the Way and Commando, but in this film, it just made me giggle. Why gubenator, why?
Spencer S.
Super Reviewer
Junior Quotes
| | |
| --- | --- |
| Dr. Alexander Hesse: | I want my baby! |
| | |
| --- | --- |
| Dr. Alexander Hesse: | MAMAAAA!!!!!! |
| Dr. Alexander Hesse: | Mama! |
| | |
| --- | --- |
| Dr. Alexander Hesse: | My body. *My* choice! |