Street Fighter
(1994)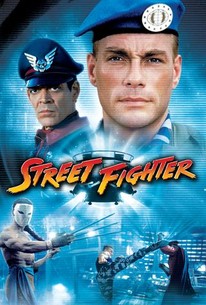 TOMATOMETER
AUDIENCE SCORE
Critic Consensus: Though it offers mild entertainment through campy one-liners and the overacting of the late Raul Julia, Street Fighter's nonstop action sequences are not enough to make up for a predictable, uneven storyline.
Movie Info
A military commander is sent by an international organization to fight a psychotic dictator who holds a relief team hostage. When the world pays the dictator's ransom, the commander resigns and decides to take on the villain himself. This action fantasy is based on a popular video game.
News & Interviews for Street Fighter
Critic Reviews for Street Fighter
Audience Reviews for Street Fighter
Absolutely terrible action film based very very loosely on the 'Street Fighter 2' computer game. Van Damme looks fine but acts badly as are the rest of the cast who are all just awful, simply dreadful. No one actually looks like their videogame counterpart accept maybe Raul Julia who saves a little grace as 'Bison' but he's hardly the right build for him. The action and fight sequences are pitiful, totally laughable, I can't even bring myself to call them action sequences whilst the sets look like paper thin sets merely with lots of metal and monitors everywhere. The main issue with this 'film' is the fact its totally and completely made for kids, watered down to the bone with nothing for anyone over the age of about 13 to enjoy. Game fans will be like...'excuse me!!?' whilst most adults will simply piss their pants with laughter. Just adding the odd chase sequence or explosion doesn't make things all better Mr Director. One of the only films I can say is sheer dross and less than B-movie standards mainly because it cost a bomb to make, had a HUGE merchandise and marketing push. It was actually advertised as a serious action film (probably due to JCVD being in it), it was! I remember seeing it in the cinema. SFII cannot be made into a serious or semi serious film end of, the characters and stories just don't work in this field. Animated yes, live action no, no no no hell no. The best bit of the film has to be the introduction of 'Blanka' and 'Dhalsim', I swear only Ed Wood could compete with that.
Phil Hubbs
Super Reviewer
I'm sitting here laughing to myself because I gave this such a high rating. This movie is one gigantic piece of crap, but yet it's too damned enjoyable to be written off completely. Street Fighter is an adaptation of the Street Fighter II game that was all the rage in arcades across the globe during the early 90's. That game had bits of a storyline, but for the movie, they expanded and changed a lot of it. This is also notorious for being Raul Julia's final film, has he passed away from stomach cancer afterwards. Thankfully, he goes out with an amazing performance. Like Frank Langella was to Masters of the Universe, Raul Julia is to Street Fighter. He gives a well-read and fun performance. Everyone else is atrocious, including JCVD, but the action and comedy is so bad that it's good. Definitely check it out if you're looking for something easy to take in without a lot of brain power. You certainly don't need any to enjoy this piece of horse manure.
Tim Salmons
Super Reviewer
½
Cool to see a childhood video game put into a film, but all in all, the film is cheesy and many characters could have looked alot better. I think that if you have played Street Fighter before watching this then you will appreciate it somewhat, but if you have no idea what Street Fighter is while going into this film, then you will think it is a complete disaster.
Eric Alvarez
Super Reviewer
Street Fighter Quotes
| | |
| --- | --- |
| Bison: | You've made me a happy man. |
| Col. Guile: | Next, I'll make you a dead one. |
| | |
| --- | --- |
| Col. Guile: | Bison, you're off the air! |
| | |
| --- | --- |
| Chun-Li: | How about an interview for my network. |
| Col. Guile: | Yeah, sure. But only if you wear that dress. |
| | |
| --- | --- |
| Bison: | Of Course! |
| Bison: | Of course! |