Shallow Grave
(1995)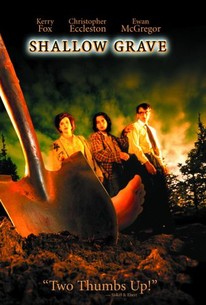 TOMATOMETER
AUDIENCE SCORE
Critic Consensus: This black-humored thriller features characters who are more obnoxious than clever. During the second half, the movie descends into gratuitous violence.
Movie Info
In this black British comedy, set in modern Scotland, three odd people finally find a new roommate and must figure out what to do with him after he turns up dead. Tension runs high between the trio, and the story takes many serpentine turns before its resolution.
News & Interviews for Shallow Grave
Critic Reviews for Shallow Grave
Audience Reviews for Shallow Grave
½
This debut from Danny Boyle is a tale of three dispassionate roommates who find their new flat mate dead with a whole lot of money in a suitcase, and a whole ton of cocaine. The rest of the film shows them turn on each other for a bid at the money, and the chance to walk away with everything. Because the characters are so flat and bitter, it makes the tension that much more unbearable. A pre-"Trainspotting" Ewan McGregor plays a cheeky narcissist named Alex, who seems to be the class clown, and the one who tries to make the fun last the longest. Christopher Eccelston is the gawky, forward thinking mate who falls into a fit of lunacy after facing the horrors of their plan. Kerry Fox is both unnaturally gorgeous and suspicious, making us unsure where her loyalty lies. As each seems to unravel at the seams, the tension mounts, as we watch them each hatch their successive plans, all the while keeping away the police. This is a great thriller, and a great start to Boyle's terse career.
Spencer S.
Super Reviewer
½
Danny Boyle's debut film is incredibly taut and chilling. With dark undertones and great performances (McGregor does very well), Boyle creates a moody thriller with an engaging plot but maybe with too loose of an ending.
Kase Vollebregt
Super Reviewer
Combine varying amounts of The Trouble With Harry with Blood Simple, and the result is something like this. Shallow Grave is the debut of maverick director Danny Boyle, and it's a pretty slick way to kick off a career. The plot involves three self obsessed and rather cruel Edinburgh roommates who, after taking in a mysterious guy as their fourth tenant of their flat, find themselves in a world of trouble when the find him dead..with a big suitcase of cash under his bed. From there we are treated to a series of increasingly bad decisions, paranoia, and pretty messed up situations, all thanks to greed and man inhumanity toward his fellow man. This is a really solid thriller that showcases Boyle's talent and trademark style and energy right from the get go. The film is absolutely pitch black with its offbeat humor, the cinematography and editing are kinetic and far from dull, and the twisty plot is a real delight to watch unfold. None of the characters are really all that sympathetic, and normally I'd see that as a flaw. It is to an extent, but at the same time, it's also part of why the film works. We don't always need to be able to relate to everyone, and there really are people in this world as narcissistic and awful as our three leads. Speaking of which, we get some fine performances from then pre-fame thespians Kerry Fox, Christopher Eccleston, and Ewan McGregor. They have a natural chemistry with one another, and tackle some tough material quite well. The film does a lot of telegraphing of what Boyle would deliver later on, and that's cool. The film makes the most of its low budget, and proves to be quite a memorable piece of work that you should definitely check out.
Chris Weber
Super Reviewer
Shallow Grave Quotes
| | |
| --- | --- |
| Alex Law: | Tell me Cameron. Just tell me because I'd like to know. What makes you think that we would want to share an apartment with someone like you? |
| | |
| --- | --- |
| David Stevens: | If you can't trust your friends, then what then? What then? |