L'Enfer
(1994)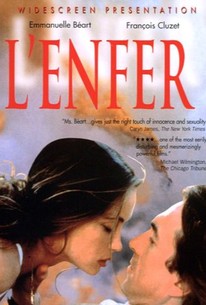 Movie Info
This French drama about the relationship between an insanely jealous man and his wife took 30 years to make. Since its inception by the late director Henri-Georges Clouzot the film was plagued with bad luck. He began filming it in 1964. There are only two characters in the film and on the third day of shooting the female lead became gravely ill. Later during rehearsals with a new actress, the director had a heart attack. Though he lived until 1977, he never got around to finishing it. The script was passed on to producer Marin Karmitz by Clouzot's widow. Paul wanted to buy the beautiful resort hotel he worked at for 15 years. His happy and spirited wife Nelly goes along with it. She is already a mother and contented with her life. Paul, who incurred tremendous debts to get the hotel, is not so happy. He is stressed to the breaking point. After he suspects his wife of philandering he slowly goes insane. He also begins increasing his consumption of alcohol and sleeping pills. Their lives become a living hell.
Critic Reviews for L'Enfer
Audience Reviews for L'Enfer
½
Seeing this makes me want to watch the available footage of Clouzot's Inferno and Schneider's interpretation of the role.
Stefanie C
Super Reviewer
½
With the title L'Enfer (meaning Hell) and a story by famed French suspense master Henri-Georges Couzot, you cannot help but have some idea about what you're getting into. Paul works hard at managing his fledgling hotel and never gets enough sleep, and right at his side is his beautiful wife Nelly carrying her share of the load while raising their young son. Stress takes its toll on Paul as he begins hearing voices and suspects Nelly of straying into a young car mechanic's arms. And that's just for starters! L'Enfer follows the one-track mind of Paul and never deviates from the theme of jealousy. Over time we see Paul transform from a pitiable figure into a despicable monster, and apart from a couple wobbles Francois Cluzet capably handles the task. Emmanuelle Beart is even better as Nelly as she deftly handles a wide range from the radiantly bouncy bride to the confused & frightened subject of scorn. The further the movie goes, the more we see slightly modified replays of earlier scenes because of the single-minded nature of the screenplay. Still, director Chabrol achieves his goal of depicting a marriage completely crumbling through one man's inability to accept the keystone building block of trust.
Doctor Strangeblog
Super Reviewer
L'Enfer (translated as "Hell") started life as a script by Henri-Georges Clouzot starring Romy Schneider but filming was stopped when Clouzot suffered a heart attack. Chabrol then got his hands on it and turned it into a semi successful study of one man's decent into madness. Things start of well for our main character (François Cluzet) he has a new wife, a young son and is running a successful hotel. Though soon enough he starts to suspect his wife of adultery (when his wife is the flirty Emmanuelle Béart who can blame him). As the film continues it becomes obvious that this man clearly has something wrong with him and is beoming more and more obsessed and paranoid. The ending was rather ambiguous, but even with the two good lead performances it's still rather average.
L'Enfer Quotes
There are no approved quotes yet for this movie.