Nightmare (Here's the Knife, Dear: Now Use It)
(1964)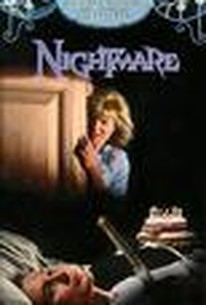 AUDIENCE SCORE
Critic Consensus: No consensus yet.
Movie Info
Janet is a young student at a private school; her nights are troubled by horrible dreams in which she sees her mother, who is in fact locked in an insane asylum, haunting her. Expelled because of her persistent nightmares, Janet is sent home where the nightmares continue.
Critic Reviews for Nightmare (Here's the Knife, Dear: Now Use It)
All Critics (3) | Fresh (2) | Rotten (1)
Superior Hammer non-horror thriller.
February 18, 2004 | Rating: 3/5
Apesar da obviedade da primeira parte da trama, a segunda metade traz boas reviravoltas e consegue surpreender o espectador (mesmo que o roteiro seja claramente inspirado em As Diabólicas).
September 9, 2003 | Rating: 3/5
Audience Reviews for Nightmare (Here's the Knife, Dear: Now Use It)
½
Part of an 8 film set of Hammer horror. This was released the year after Paranoiac, but I watched it first. It may be because of this subjective experience that this one surprised me while the other one felt unoriginal, but I think there are objective reasons that this film is better. As I stated in my review for that other Hammer movie, this is a domestic drama with contemporary chills, rather than a classic movie monster adaptation. Right at the start we are launched into a nightmare with visually interesting Expressionist lighting and Dutch angles in a mental asylum. Janet (Jennie Linden) is sent home from her private school when one teacher/counselor fears she may have a mental breakdown from repeated nightmares and lack of sleep. The teacher (Brenda Bruce) truly cares and travels home with her to be sure she gets settled. Linden plays Janet in nearly a constant state of fear. I thought she was a very good actress as I believed her character's fear by her reactions. There is no supernatural threat, although it is troubling that aspects of her nightmares seem to come to life in waking moments. Instead the nightmares are based on fears that mental illness that can in reality be inherited will be passed down and that frightening actions taken by a parent will uncontrollably be repeated by the grown child. This movie fulfills the purpose of horror. In the real world I understand the fear that conditions like Alzheimer's, Depression, and extreme Anxiety are likely to be passed from generation to generation. As an audience, we do also see Janet girlishly exciting to see her long distance fiancé again. We notice that something is off about this guy, an in home nurse that has been hired, and perhaps the family butler too. There is a lot of mystery about people's motivations. Like in Paranoiac, halfway through a twist is revealed and suddenly a character who was in on the first scam becomes the victim of a second sadistic scam. This second victim is self reflective and expects to be better able to defend against the scare tactics that they were part of perpetrating against poor Janet. There are too many creepy occurrences for this second victim to escape though. Who is the top mastermind of these nightmare inducing plots? Freddie Francis again directs this diamond in the rough that I am so glad I discovered.
Byron Brubaker
Super Reviewer
Another Hammer Collection Film. This movie is as good as any Hitchcock feature. About a young girl whose mother killed her fatter because she was insane from dreams she was having, now the daughter is having the same dreams and seeing people, or is someone driving her deeper into insanity. A twisted suspense film with as many twist and turns as any mountain road. 4 stars.
Bruce Bruce
Super Reviewer
Nightmare (Here's the Knife, Dear: Now Use It) Quotes
There are no approved quotes yet for this movie.