Man of the House
(1995)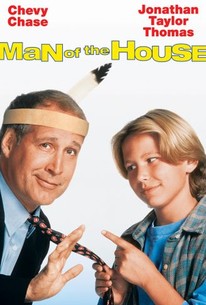 Movie Info
In this comedy a young boy declares war after he learns that his mother is about to remarry. The lad is Ben Archer (teen heartthrob Jonathan Taylor Thomas), and several years before, his real father abandoned his mother (Farrah Fawcett). Now he is suspicious of all his mother's boyfriends. After she announces that she is planning to marry district-attorney Jack Sturges (Chevy Chase), Ben vows that he will do everything in his power to scare him away. Meanwhile, a notorious gangster plans to do more than scare Jack away. Mayhem ensues as the bratty Ben continually torments his would-be step-dad who is equally determined to bond with the boy.
Critic Reviews for Man of the House
Audience Reviews for Man of the House
This is a very cheesy comedy that has a wasted cast. I thought that the film was pretty bad and it really didn't offer anything good for the viewer. The script was underdeveloped and the cast simply didn't do it for me. I felt that the film tried too hard at being sentimental, and it ultimately became forgettable. I felt that this film was boring, and ultimately not interesting. The film has wasted potential of being a fun, memorable family comedy. Where the film fails is in the script, the story just doesn't do it. They could have put more effort in this film. This film is definitely not Chevy Chase's best film, and the film just fails to be good. This is an awful film with a poor cast and story. Add to that that the filmmakers are trying to make it too emotional, and you have a film that isn't worth your time. Man of the House is clichéd, dull, boring an unfunny. The film is just weak in terms of a good story and a good cast. Director James Orr fails to give us a good film, and this is a film to avoid and definitely not worth your time. I hated the film, and I thought it was disappointing. This is definitely not one of those childhood comedies that are worth seeing again years after its release. There are plenty of good family oriented comedies that have been released in this period, but Man of the House is not one of them. This is just a poorly constructed film that doesn't have anything going for it. This film simply isn't worth your time. Watch something else.
½
Hilarious, well I thought it was anyway. It has Chevy Chase as the worst/greatest step dad to ever live. It's practically the only movie Disney ever released involving broken homes so it automatically gets points for being original. The Mob killing plot that somehow fit in to Indian clubs and bonding sessions was a little extreme, but it made sense in the 90s. If only more mainstream movies were this oddball.
Conner Rainwater
Super Reviewer
½
In "Man of the House," Jonathan Taylor Thomas stars as Ben, a kid who's dad moved out when he was real young. Now Ben is 11 and his mom (Farrah Fawcett) is the only person or thing that he's concerned about right now. His mom starts dating Jack (Chevy Chase), and Ben does everything he can to get rid of Jack because he doesn't want Jack to get in the way of his and his mom's usual routine and way of life. To drive Jack away, Ben wants to enroll himself and Jack into a new hobby that involves learning more about things Indians do. Will Jack take the hint and run away like Ben's father did, or will Ben and Jack get a lot closer? "Man of the House" does have its hilarious parts, mostly by Chevy Chase's clumsy antics, but I liked it more because it dealed with a type of family struggle that I could relate to a lot, and the movie does a real good job of it. My parents got a divorce when I just turned 9 and I had to live with my dad. When my dad started dating new women instead of my mom, it was hard for me to get used to it for a long time, not because I was real close to my dad, but because I felt like most of the new women were trying to take the place of my mom. That's why I could really relate to this movie a lot and enjoy it for more than its comedy. I recommend anybody who likes good comedy movies that are funny, but have a deeper message to them to get "Man of the House," it's a great movie. NOTE: That was my Amazon review from the year 2001.
Jason Owens
Super Reviewer
Man of the House Quotes
There are no approved quotes yet for this movie.