Rob Roy
(1995)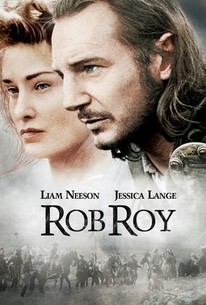 TOMATOMETER
AUDIENCE SCORE
Critic Consensus: Rob Roy is an old-fashioned swashbuckler that benefits greatly from fine performances by Liam Neeson, Jessica Lange, and Tim Roth.
Movie Info
The story of the early 18th-century Scottish outlaw Rob Roy MacGregor is presented in this epic that was beautifully photographed in the wild Scottish Highlands. Rob Roy began as a simple cattleman and sometime thief who worked hard to support his beloved wife and two sons. His benefactor was the Marquis of Montrose from whom he borrowed a large sum with which to buy more cattle. Things go well until Montrose's wicked hired hands Killearn and Cunningham end up killing Rob Roy's close friend McDonald and stealing the loan money. No longer able to pay the debt, Roy heads for the hills. Meanwhile Cunningham orders that Roy's farm be pillaged and his wife raped. Hearing of this, Rob Roy begins to fight back and a legend is born.
News & Interviews for Rob Roy
Critic Reviews for Rob Roy
Audience Reviews for Rob Roy
½
Scottish highland class warfare as the poor-but-honorable working class try to squeeze a break from the generally debauched upper class. Period costumes and powdered wigs, lots of grassy, mists-o'er-the-heather scenery and big buffy men pulling out their swords for a wee contest make for a nice evening. A bottle of vino and a smile for Tim Roth's dangerously prissy fop bad guy.
Kevin M. Williams
Super Reviewer
½
A soaring epic piece concerning a hero who stood by a code of honor and who took a stand when that code was violated in more ways than one. Liam Neeson gives a quietly intense performance as a man whose love for his family was as great as his name. Tim Roth, one of my favorite actors, creates a rare sort of villain, a rapist and murderer who has dominant feminine mannerisms, and whose merciless ways rank him as one of cinema's best bad guys. This film is full of surprises and great escape/fight scenes, with an ending sword battle that is flat-out incredible.
Dan Schultz
Super Reviewer
With it's grittier direction and more personal story, this period swashbuckler seems to lack the Hollywood gloss of it's contemporary Braveheart, but scratch the surface and you'll find the usual foreign actors with suspect accents, penny whistles and noble savages fighting the oppression of evil aristocrats, hung on a plot that could easily have been lifted directly from a western. It is however well written and solidly performed, but it is really the cast of cads that Neeson is forced into battling that make this film. John Hurt's arrogant and calculating Montrose, Brian Cox and his amusingly snide commentary on the proceedings, but most of all Tim Roth's hilariously immoral fop. It may not have the spectacle and humour of Mel Gibson's epic, but it is different enough to make it worth a watch in it's own right.
Rob Roy Quotes
| | |
| --- | --- |
| Montrose: | (To Cunningham)" "One must never underestimate the healing power of hatred." |
| Montrose: | [to Cunningham] One must never underestimate the healing power of hatred. |
| | |
| --- | --- |
| Rob Roy MacGregor: | Do you know how fine you are to me, Mary MacGregor? |
| | |
| --- | --- |
| Killearn: | Would you like me to take your chamberpot? |
| Cunningham: | ... |
| Killearn: | I know many a Scotsman who would be glad of this on a cold morning; it's almost pure spirit, and I'm no judge of a pint of pish. |
| | |
| --- | --- |
| Betty: | But I love you, Archie! |
| Cunningham: | Love is a dunghill, Betty, and I am but a cock who climbs upon it to crow. |