The Babysitter
(1995)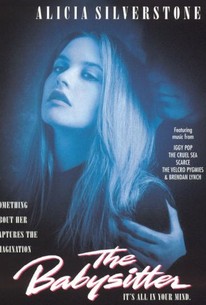 Movie Info
This dark drama presents a non-linear account of a perfectly mundane event. Having a social engagement, a couple calls for their babysitter. She arrives, they go out, her boyfriend comes over, and the weirdness begins.
Critic Reviews for The Babysitter
Audience Reviews for The Babysitter
My original rating of 3 holds. I first saw this a few years after its release in the 90's, and now again in 2017. It's funny how I relate now to Dolly, the older woman, but when I first saw it, I related to the babysitter. (Despite being nothing like either of them). This is actually borderline disturbing, as the babysitter is a flat character whose name we don't even discover until the final scene (Jennifer, in case you're interested). She has little to do but be a pretty girl. The real story is of those interacting with her. Her ex boyfriend, current boyfriend, the parents of the children she is babysitting on the evening this movie takes place across. Through them you see little scenes based on what they are reflecting in Jennifer. Jealousy, in Dolly's case, as she feels old and unattractive and her husband clearly has eyes for the young babysitter. Even the young boy she babysits has secret thoughts and fantasies. Some of the thoughts are violent and make for uneasy viewing. This is an interesting idea, not sure about the execution and Alicia is kind of wasted as this could have been any pretty teen.
Nicki Marie
Super Reviewer
What the hell was Alica Silverstone thinking ?
The Babysitter Quotes
There are no approved quotes yet for this movie.