She
(1935)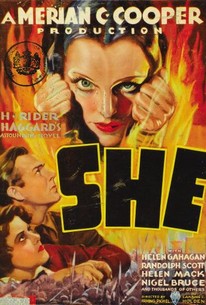 Movie Info
The second novel by British author H. Rider Haggard (his follow up to King Solomon's Mines) became this adventure classic, filmed twice previously in silent form. Randolph Scott stars as Leo Vincey, the descendant of an explorer who, according to family lore, discovered an immortality-bestowing fire on an expedition to a remote area of Manchuria. Leo sets out on a new voyage of discovery to the region's frozen wastes with a British scientist, Horace Holly (Nigel Bruce). Along the way, their team is joined by a trader, Dugmore (Lumsden Hare) and his daughter Tanya (Helen Mack). A tragic avalanche then kills everyone except Leo, Horace, and Tanya. Rescued by tribal shaman Billali (Gustav von Seyffertitz), the trio is led underground to Kor, a secret land with a hot climate ruled over by the cruel Ayesha (Helen Gahagan), better known to the natives as "She Who Must Be Obeyed."
Audience Reviews for She
½
Corny and stilted drama with some impressive sets and costumes. While most of the acting is overly emotive it is interesting to see Helen Gahagan in her only film role, she went on to be a controvesial figure in California politics running unsuccessfully, as Helen Gahagan Douglas, against Richard Nixon for the Senate and coining the phrase Tricky Dicky.
She Quotes
There are no approved quotes yet for this movie.