Village of the Damned
(1995)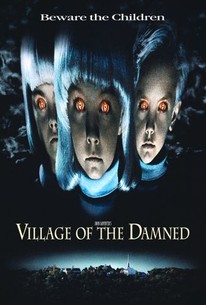 TOMATOMETER
AUDIENCE SCORE
Critic Consensus: With John Carpenter at the helm and an eclectic onscreen ensemble, this Village of the Damned should be distinguished by more than its improved special effects.
Village of the Damned Videos
Village of the Damned Photos
Movie Info
This film is a remake of the classic 1960 science-fiction thriller, Village of the Damned, which was based on the novel The Midwich Cuckoos by John Wyndham. Veteran horror director John Carpenter is at the helm this time, with Christopher Reeve replacing George Sanders in the starring role. Aliens put the entire village of Midwich to sleep for 24 hours and impregnate many women. Reeve plays Alan Chaffee, the town doctor, whose wife Barbara (Karen Kahn) is one of the women carrying an alien baby. Visiting scientist Dr. Susan Verner (Kristie Alley) is monitoring the situation for the government. She supervises a mass birthing in a barn. The children turn out to be white-haired, glassy-eyed, and telepathic. Their plan is to use their supernatural powers to kill the villagers and help the aliens take over, and only Chaffee and Verner can stop them.
Critic Reviews for Village of the Damned
Audience Reviews for Village of the Damned
The remake of the classic film is mediocre to say the least. The 1960 Wolf Rilla horror classic has been remade by John Carpenter. Given the fact that Carpenter helmed this remake, you'd think the film would be a decent remake. Well, it almost is. Unfortunately with most remakes, this film shows exactly what's wrong with remaking classic films. Even if it's directed by horror maestro John Carpenter, Village of the Damned is an exercise in mediocrity. John Carpenter has always made great films, until know. With this remake, you can slowly see a great director losing his touch. I personally feel that John Carpenter should have focused more on writing his own horror film, instead of remaking a classic that didn't need to be remade. His efforts succeeded with 1982's The Thing; however this was not to be with this film. This remake is a valiant try, but the result is mediocre. This remake will surely disappoint the most die-hard John Carpenter fan. This remake is pretty bland, and quite unnecessary. Whatever made the classic film great is gone, replaced by a poor script and mediocre acting; this remake really doesn't cut it. The fact that John Carpenter directed this would make any horror fan think that the film is good. Well, it's watchable somewhat, but very much forgettable. The film lacks anything truly scary and it signals the beginning of the downward spiral for the great John Carpenter. I guess even the horror greats tend to lose their inspiration, this remake is proof of that. This could have been a better film, but falls short on many levels. Watch if you're a Carpenter nut, however keep in mind this is a mediocre film.
Mara Chaffee: Life is cruelty. We all feed on each other, exploit each other in some way to survive.  "Beware the Children" Village of the Damned is an interesting, if not totally satisfying, film. Carpenter remakes a 1960 film of the same name that I am not familiar with. I do have to say that for the most part I likes this movie. It has a strong first act that really got me into the movie. The movie tapers off a little as it goes, but I always remained interested, even with a lot of the ridiculousness that does ensue.  The whole population of a small town blackout at precisely the same time, for the exact length of time. When everyone was woken up and things go back to normal, they start to notice that a lot of the women are pregnant. The women are talked into having their babies by a doctor who wants to do research on them. The kids are born and it doesn't take long for their parents and the rest of the townspeople to realize that these little white haired fuckers aren't like the average human. The movie has some problems; a big one in Kirstie Alley, but only one really effected how much I liked the movie. That would be the pacing. The movie felt so rushed. Years would go by in seconds. The story didn't seem to really take hold of me as strong as I was expecting because the movie was in its final act before I really even noticed.  I thought the movie was extremely cool, mostly because of Carpenter's score and his solid directing. I thought there were some weird decisions, but that didn't completely take away from my enjoyment of the film. It isn't among Carpenter's best work, but it is still a solid little horror-thriller.
Melvin White
Super Reviewer
½
A pretty good remake, it's got a good cast anyway. The story is as weird as in the first, but sort of brought up to date of course. Still, a remake was not needed, and this movie isn't all that great.
Village of the Damned Quotes
There are no approved quotes yet for this movie.