Bad Boys
(1995)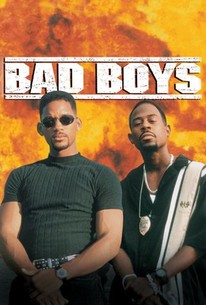 TOMATOMETER
AUDIENCE SCORE
Critic Consensus: Bad Boys stars Will Smith and Martin Lawrence have enjoyable chemistry; unfortunately, director Michael Bay too often drowns it out with set pieces and explosions in place of an actual story.
Movie Info
Former video director Michael Bay had his first big hit with this action comedy, which also returned producers Jerry Bruckheimer and Don Simpson to the big-budget, high-violence movies that they successfully churned out in the '80s. Mike Lowrey (Will Smith) and Marcus Burnett (Martin Lawrence) are two Miami cops who watch as 100 million dollars in heroin, from the biggest drug bust of their careers, is stolen out of the basement of police headquarters. This puts them hot on the trail of French drug lord Fouchet (Tchéky Karyo), who leaves a trail of bodies in his wake and only one witness, Julie Mott (Téa Leoni), who quickly teams up with our heroes. Comic hijinks ensue when plot complications force Mike to impersonate the married Marcus, to the point of moving in with his wife and children, while Marcus takes over Mike's bachelor pad and lifestyle. Car chases, snappy one-liners, and nonstop pacing fuel this umpteenth variation on the cop "buddy" formula. ~ Don Kaye, Rovi
News & Interviews for Bad Boys
Critic Reviews for Bad Boys
Audience Reviews for Bad Boys
½
Straight up action films that include a bit of comedy and a lot of chemistry between its leads, are intensely enjoyable. There's almost a strange catharsis when the car explodes, or some angry police chief swears up a storm. It's a little formulaic, but we've all seen it enough that we can sit down and simply enjoy. For some reason "Bad Boys" commits faux pas left and right, making it impossible to enjoy. The action is still pretty riveting, since Bay at least understands the dynamics behind explosion equals boom, but the comedy is lacking. Instead of showing us who the characters are, we get thrown tons of exposition about our lead character's back stories. Besides that they are defined by a simple characteristic each: Burnett is a family man, and Lowrey is a playboy with a lot of cash. Behind that neither is interesting in any way. Without knowing the characters, the comedy falls flat, and most of what they say is either more boring exposition, or a long string of expletives. I believe Lawrence was supposed to be the comic relief and Smith was supposed to be the muscle, but they don't work well together, and they're not given much help from Bay's hapless direction.
Spencer S.
Super Reviewer
Will Smith and Martin Lawrence partner up and it's hysterical as it is action-oriented. Michael Bay's Bad Boys is directed in a somewhat-decent way that is also well-scripted in thanks to Jerry Bruckheimer and Don Simpson. 4/5
Eugene Bernabe
Super Reviewer
Marcus Burnett: Next time, learn to work the safety with your punk-ass.  "Whatcha gonna do?" I'm not going to sit here and bash Michael Bay or anything like that because he's making movies the way he sets out to make them. It's not like he goes into these projects expecting to walk away with Oscar nominations and shit. He's just making high action, big effect type movies. Some people love em, some people hate em. That's exactly how it is with Bad Boys. There's a lot of people who love it and a lot of people who hate it. I wouldn't quite go as far as to say I completely hated it, but I will go as far as to say I thought it was bad and I didn't like it. When $100 million worth of heroin is stolen from the Miami police department, two narcotic detectives are put on the case. Soon a murder occurs that is linked to the case and one witness survives, so they also have to protect her. That's basically the plot with a bunch of mumbling and bullshit thrown into it. For what reason, this movie runs on two hours, I have no idea. It seems to me like more than half of this movie should have been cut. I know that doesn't leave you with a feature length, so maybe adding some scenes that would make sense and add to the story would work. Oh, but that's not what Michael Bay is all about. The movie is a lot of noise, a lot of gunfights, a lot of chases, and big body count. Now I'm not knocking it for that, but come on can throw in some sort of substance to go along with your big action scenes for gods-sake. The movie is a complete and utter mess, with cops that don't know what the fuck they are doing, and Martin Lawrence doing his whole schtick, and a plot that doesn't seem to have any direction in the middle. So I didn't like the movie, but for it definitely has an audience. A lot of people love these mindless action movies and sometimes I do to. This just isn't one of those times. For how bad it is, it still manages to move fast and is sort of entertaining if only because of just how dumb it is. It's worth a look if you love explosions and worthy of a pass if you care about things like plot, characters, dialogue; you know, the stuff that actually makes movies good.
Melvin White
Super Reviewer
Bad Boys Quotes
| | |
| --- | --- |
| Mike Lowrey: | Now that's how you drive! From now on - That's how you drive! |
| | |
| --- | --- |
| Marcus Burnett: | Look at all this this is shit! Liquid shit! |
| | |
| --- | --- |
| Mike Lowrey: | Hey listen I don't want no picnic shit in my car. |
| Mike Lowrey: | Hey, hey, what's this having-a-picnic shit in my car? |
| | |
| --- | --- |
| Marcus Burnett: | You forgot your boarding pass. |