Smoke
(1995)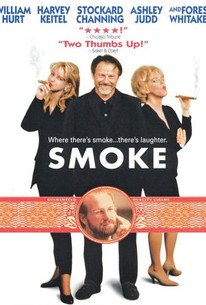 TOMATOMETER
AUDIENCE SCORE
Critic Consensus: Smoke draws in a stellar ensemble, holds the audience's attention with a robust blend of connected stories, and sends viewers out on a pleasurable high.
Movie Info
This ensemble drama centers on a neighborhood cigar store as it chronicles the entangled lives of fifteen characters. The story is divided into five chapters each bearing the name of a different character. The main players have roles in all five stories. The first, "Paul" follows recently widowed novelist Paul Benjamin whose wife died during a bank robbery. He is almost hit by a truck when a black teenager who calls himself Rashid, saves him. The thankful novelist lets the teen stay with him for a while. Rashid's story forms the basis of chapter two. Paul is visited by Rashid's aunt who tells him that the boys true name is Thomas Cole. He has recently learned that his dad is really alive and living out of the city. Rashid journeys to meet his dad, Cyrus Cole. When he meets him, Rashid tells him his name is Paul Benjamin. Auggie, the cigar store manager, also gets a surprise when his ex-wife shows up to tell him his daughter is a pregnant drug addict. Rashid tells Paul that he has $6000, the spoils of a recent bank robbery perpetrated by his pal, Creeper. The rest of the chapters are equally convoluted.
Audience Reviews for Smoke
Paul Benjamin: if you're gonna die, what's more important, a good smoke or a good book. So he smoked his book. "Where there's smoke... there's laughter!" Smoke is a very good movie and wasn't quite what I was expecting. I'm not too familiar with Wayne Wang's work, only having seen Anywhere But Here before, but I was thoroughly impressed with this film. What we have here is basically an unstructured story, which was extremely popular in the nineties, centered around a cigar store in Brooklyn. The story follows a variety of characters from the cigar store owner, one of his customers, a young kid, an unknown father, and a woman from the past. It all melts together really well. This isn't a film for anyone. It's a conversational movie that has a lot of long monologues and storytelling, but for fans of these type of movies, it's heaven. I can't really think of better actors for the movie either. The main two, Harvey Keitel and William Hurt give terrific performances as always.  Smoke is a movie for the person who likes quiet movies that stay away from action and bullshit, that remain real and are just telling the story of human beings. That's what this is to me and that's why I like this movie, and movies like it so much. There's nothing flashy about the characters, there's no big twists, no action to speak of; it's just real life. Smoke blends comedy and drama together really well as well. It's too bad that this isn't a more well known film, but in the end it doesn't really matter. A great film is a great film.
Melvin White
Super Reviewer
There is a scene where Harvey Keitel does a monologue that goes on for what seems like ten minutes. The camera is still and all we are doing is watch a man talk. Nonetheless, it is brilliant..and that is only one part of this film.
John Ballantine
Super Reviewer
Literary film about a group of people, centred around a New York tobacconist and scripted by Paul Auster. You can tell an author wrote the script as there's lots of monologues and both Harvey Keitel and William Hurt get to tell stories during the film. All very erudite.
Smoke Quotes
There are no approved quotes yet for this movie.