The Maltese Falcon
(1931)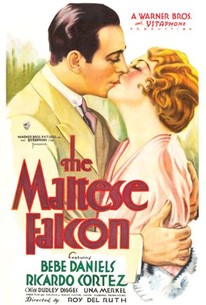 Movie Info
This first of three film adaptations of Dashiel Hammett's The Maltese Falcon plays at times like the road-company version of the more famous 1941 John Huston/Humphrey Bogart adaptation. Ricardo Cortez stars as a slick, rogueish edition of Sam Spade, using his office as a trysting place for his various amours. Bebe Daniels plays the Brigid O'Shaughnessy character, here rechristened Ruth Wonderly. Ruth hires Spade and his partner Miles Archer (Walter Long) to locate her missing sister. Archer is killed while on duty, confirming Spade's suspicion that Ruth's lost-sister story was a subterfuge. In fact, Ruth is one of several disreputable types in search of a valuable falcon statuette encrusted with jewels. Others mixed up in the quest for the "black bird" are portly Casper Gutman (Dudley Digges), Gutman's neurotic gunsel Wilmer (Dwight Frye, better known as Renfield from Dracula) and effeminate Joel Cairo (Otto Matiesen). It is giving nothing away at this stage of the game to note that, after all the various intrigues concerning the falcon have come and gone, Spade turns Ruth over to the cops as the murderer of Archer. As would be the case with the 1941 version, the 1931 Maltese Falcon does not use Hammett's original ending, in which Spade callously resumes his affair with Archer's widow (Thelma Todd). Instead, we are offered a jailhouse coda, where a suddenly compassionate Spade asks the matron to treat the incarcerated Ruth gently during her 20-year stay. When Maltese Falcon was due for a reissue in 1936, it was denied a Production Code approval on the basis of one single line: Archer's widow, spotting Ruth Wonderly in Spade's bedroom, exclaims "Who's that dame in my kimono?" In between the 1931 and 1941 versions of Maltese Falcon, there would be a heavily disguised reworking of the Hammett novel, Satan Met a Lady (1936), starring Warren William and Bette Davis. To avoid confusion with the 1941 remake, the 1931 Maltese Falcon has been retitled Dangerous Female for television. ~ Hal Erickson, Rovi
Critic Reviews for The Maltese Falcon
Audience Reviews for The Maltese Falcon
½
Very faithful pre-code adaptation of Hammett's novel. The femme fatale, marvelously played by Bebe Daniels, sticks with the name Ruth Wonderly, rather than revealing that to be just an alias. There's also a prison scene at the end, since the romance between Ruth and Spade is played up more. Except for Dudley Digges not quite having the girth required for the character of Gutman (he looks and sounds like the model for Burgess Meredith's Penguin on the Batman TV series), I thought the cast was wonderful at bringing the characters from the book alive. Ricardo Cortez (who was Austrian and adopted this stage name during the Valentino mania of the silent era) is a suave womanizer. The subplot about Spade having an affair with his partner's wife isn't ignored like in the other adaptations and the sexual innuendo is closer to the source material than later films censored by the production code. The camera work is definitely not bland, too.
Byron Brubaker
Super Reviewer
½
Better than "Satan Met a Lady" but not in the same league as the 1941 remake.
The first film adaptation of Hammett's novel, but certainly not the best. As an early "talkie," this film had practically no atmosphere, and Sam Spade is played by Cortez as a leering, lecherous playboy with a boyish smile; there is none of the "tough guy" detective that Spade deserves to be. While it's a bit more risque than the 1941 Huston film due to its being filmed before the Production Code took effect, this film is really only of interest to those who might be interested in seeing how different directors tackle the same material (and how different they turn out). If you love this story, skip this film and see the Huston masterpiece.
The Maltese Falcon Quotes
There are no approved quotes yet for this movie.