Raw Deal
(1948)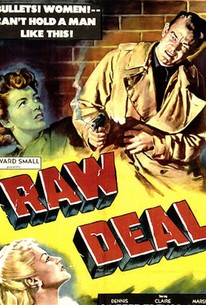 Movie Info
In this film, framed gangster Joe Sullivan busts out of prison and sets out to find the mobster who set him up. The kidnapping of the social worker who wrote to Joe in prison leads the fugitive into a romantic triangle of death, passion, and tragedy.
Critic Reviews for Raw Deal
Audience Reviews for Raw Deal
Sinister, violent, sensual, all the good ingredients for an unforgettable noir. Anthony Mann's pace and tact for suspense and John Alton's brilliant camera work make this low budget feature look like a crime epic.
Pierluigi Puccini
Super Reviewer
"If he gets through this dragnet, he's as slippery as a nail in a barrelful of oil." A gangster (Raymond Burr) springs an associate he has betrayed out of prison, trusting that the wanted man (Dennis O'Keefe) will be gunned down evading recapture before he can come to collect his $50,000. With admirable economy, the script dispenses with time-consuming, nuts-and-bolts detail (How exactly did Burr betray O'Keefe? How does O'Keefe make his escape? etc) and focuses on the fascinating triangle between the fugitive, his fiercely loyal girlfriend (Claire Trevor) and the goody-goody legal messenger (Marsha Hunt) whom the pair take hostage when she threatens to squeal. Hunt's character serves to constantly prick O'Keefe's conscience and remind him of the time before necessity forced him into a life of crime, etc, etc. Though there are a couple of big coincidences and the plotting gets a little wobbly toward the end, the movie is stunningly photographed and very nicely narrated by the ever-excellent Trevor. Some spooky Theremin on the soundtrack does wonders for the atmosphere. A great minor noir.
a gorgeous shadowy noir about an escaped convict torn between two women. stunning photography and it's the only noir film i can think of with a female voiceover, for which claire trevor is perfect of course. an underseen but brilliant work of anthony mann and john alton. and raymond burr makes a really nasty villain. first class b-movie!
Stella Dallas
Super Reviewer
Raw Deal Quotes
| | |
| --- | --- |
| Joseph Emmett (Joe) Sullivan: | Next time you come up here don't wear that perfume. it doesn't help a guy's good behavior |
| Joseph Emmett (Joe) Sullivan: | Next time you come up here don't wear that perfume. it doesn't help a guy's good behavior. |
| Joseph Emmett (Joe) Sullivan: | Next time you come up here don't wear that perfume. It doesn't help a guy's good behavior. |