Babe
(1995)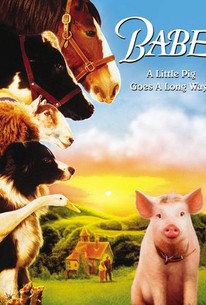 TOMATOMETER
AUDIENCE SCORE
Critic Consensus: The rare family-friendly feature with a heart as big as its special effects budget, Babe offers timeless entertainment for viewers of all ages.
Movie Info
A young pig fights convention to become a sheep dog -- or, rather, sheep pig -- in this charming Australian family film, which became an unexpected international success due to superior special effects and an intelligent script. The title refers to the name bestowed on a piglet soon after his separation from his family, when he finds himself on a strange farm. Confused and sad, Babe is adopted by a friendly dog and slowly adjusts to his new home. Discovering that the fate of most pigs is the dinner table, Babe devotes himself to becoming a useful member of the farm by trying to learn how to herd sheep, despite the skepticism of the other animals and the kindly but conventional Farmer Hoggett (James Cromwell). Because technically impeccable animatronics and computer graphics allow the farm animals to converse easily among themselves, first-time director Chris Noonan can treat the film's menagerie as actual characters, playing scene not for cuteness but for real emotions. The result is often surprisingly touching, with Noonan and George Miller's script, based on Dick King-Smith's children's book and, indirectly, a true story, seamlessly combining gentle whimsy and sincere feeling. These same qualities are embodied by in Cromwell's beautifully understated performance as Farmer Hoggett, which anchors the film. Despite its unlikely premise and low profile, Babe's inspirational story was embraced by audiences and critics, and the movie became an international sleeper that won an Academy Award nomination for Best Picture. It was followed in 1999 by the less successful Babe: Pig in the City. ~ Judd Blaise, Rovi
Audience Reviews for Babe
½
Babe is about a pig who is taken from his family and moved onto Hoggett Farm run by Arthur (James Cromwell), and Esme Hogget (Magda Szubanski). Babe is taken care of by a dog named Fly (Miriam Margolyes) after she loses her puppies, to her husband Rex's (Hugo Weaving) disapproval. The film is told in different stories following the pigs life as he befriends other animals and how Hoggett thinks this Pig has real potential as a sheepdog due to his good communication with the sheep. Now Babe is a film that has had remarkable reviews and it did amazingly well at the box office, yet I feel a lot of people that have heard of it, either brush it off, or haven't seen it. But the question remains since it's initial release almost 20 years ago, does it still hold up as a film after all this time, or are the critics just nostalgic towards it? First acting. Babe is a film that was definitely marketed towards kids with its talking animals, but the film is surprisingly more adult than it is a kids film, especially the performances. Christine Cavanaugh most well known for her roles as the first voice of Chuckie on Rugrats, and Dexter on Dexter's lab, plays Babe and she does a very good job at playing Babe. She captures the childlike spirit and wonder that Babe has towards many things that he hasn't seen or doesn't understand. Miriam Margolyes does a great job as Fly and perfectly captures the motherly figure to Babe, and when she loses her puppies, it's so sad just to see her face, and then how crushed she is later after it happens when Babe talks to her. Hugo Weavings performance as Rex is probably one of the most terrifying aspects about the film. Weaving plays Rex as a very intimidating character and he hates many things about Babe and he isn't afraid to attack Babe, or even his own wife for nurturing him, but later learns to like Babe and helps him in the end and Weaving does a good job in the role. The two people that really steal the show in my opinion is James Cromwell and Magda Szubanski as the Hoggetts. Magda plays the hospitable, but somewhat nutty wife of Arthur and she does it very well as she has done with other characters similar in the past, plus her voice in the role really helps with her more kind of nutty but calm personality, plus the scene at the end of the film when she finds out what her husband has done with Babe on TV when she's with her friends is just hilarious. James Cromwell, being one of my favorite character actors, definitely plays his best role in my opinion here (Next to his role in the Artist). He doesn't play the role goofy but plays it more like a man who is very serious about his work but has a childlike side that comes out at times, which he plays fantastically well. Watch this scene and try not to get just a hint of a smile on your face. The other side characters do well with what they're given, like Danny Mann as this duck character named Ferdinand who thinks he is a rooster and is good friends with Babe, and Miriam Flynn does a very good job as the lead sheep Maa and she does have a great connection and friendship with Babe, which makes it all the more heartbreaking when she dies in the film. Now effects. You wouldn't think that a film with all real animals would really be in need of a lot of effects outside of the mouths having to move, but here's the thing that shocked me I didn't know rewatching the film. A lot of scenes in the film where the animals are interacting or the humans have to hold the animals, they're animatronic or puppets done by Jim Henson Workshop. I was generally shocked when I realized that because the animatronics are almost impossible to really differentiate from the real animals. I mean it is noticeable sometimes, like one scene with Maa where she's laying down and talking to Babe, and with the cat Duchess, that doesn't like Babe when she talks to him. But other than that, the effects are really top notch, and how well they trained a lot of these animals was really well done on when to walk in or how long to stay in the shot. Now Music. I'm not someone to really discuss music unless the music really stands out in the film and is worth talking about, but here it's a weird exception. The film has a style of music that is much like a music box, but with a bit of orchestration to it thrown in. What I mean is the movie mainly has songs that are done in more quiet and high pitched instruments, which gives it this weird feel to the film, but adds this great childlike feel to the film as well. The music adds so much to the scenes and are either very happy and energetic songs like the main theme of the film, or the songs can be more quiet and offsetting but still have that high pitched sound to it which makes the uneasy scenes feel even more uneasy which works extremely well in certain scenes. Overall, not only does Babe hold up well, it holds up extremely well. It may not be the safest film for really young kids since there is a lot of dark elements in the film like Death and animal violence, but it's a fantastic film to watch to be honest. The characters all leave an impression, are likable, the music is very well done, its well paced, it keeps you entertained throughout, it gives this great childlike feeling of nostalgia and wonder(which is weird since I never really remember liking this film a lot as a little kid), and the acting and plot is extremely well played out. It's a film that has aged extremely well as I've gotten older and it gets better every time I view it, and I highly recommend it to get that old nostalgic kind of feel that certain fairytales or other talking animal films can give you.
Michael Edwards
Super Reviewer
This is a thoroughly charming movie. I saw it when it first came out and here it is, sixteen (can it be?) years later and having seen probably everything that Netflix has to offer ordered it as a "what the hey." I liked it better the second time. The movie teeters on the verge of sentimentality, but pulls back in plenty of time so there is no cringing! My favorite part of the movie is when the stoic farmer, nursing Babe who is sick with the thought that the farmer just wants to eat him, sings him a song, then--omigosh--does a highland dance. I don't think I've ever seen a more original declaration of interspecies love.
Bathsheba Monk
Super Reviewer
With a large targeted to the infantile audience, Babe obtain a nice effect to an older public with an intelligent screenplay, a good direction, just like the special effects and a simple language about dreams and friendship. Babe is a different tale that impress all for his humor and criative script. Fresh.
Lucas Martins
Super Reviewer