The Prophecy
(1995)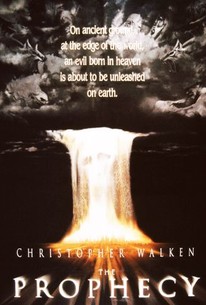 Movie Info
Tommy Dagget wanted to be a priest, but lost his faith and became a cop instead. He once wrote a learned treatise on angels, so when a physiologically abnormal individual is found murdered and a copy of Dagget's study discovered on the crime scene, he's assigned to investigate. What he uncovers is a literal war of angels. These supernatural creatures, led by the vicious Gabriel, are a tormented, murderous lot, warped by God's rejection in favor of "talking monkeys" called the human race. The angel Simon travels to a dying Western town and steals the soul of a recently deceased psychopath. Gabriel wants it back, because such souls increase his power. Simon hides it in the body of a small girl, and the race is on. Who will get to the little Mary first, the sinister angels, or the forces of human good?
Critic Reviews for The Prophecy
Audience Reviews for The Prophecy
[img]http://images.rottentomatoes.com/images/user/icons/icon13.gif[/img]
Directors Cat
Super Reviewer
Gabriel: I'm an angel. I kill firstborns while their mamas watch. I turn cities into salt. I even, when I feel like it, rip the souls from little girls, and from now till kingdom come, the only thing you can count on in your existence is never understanding why. "There is a war in heaven and hell is about to break loose." The Prophecy is a pretty good little religious horror, thriller. If there's one way of describing this film, it would have to be, interesting. Every development in the plot and with the characters(humans and angels alike) are all very interesting. If there's a problem with the film, it's the lack of satisfaction that comes from the ending. As the movie wrapped up, I was left with a feeling that someone came up with a great story, but had no satisfactory way of ending it. All in all though, this is still a more than worthwhile movie. Thomas once had the voice of God with him, and he was on his way to becoming a priest. Then on the day he was to be ordained, the voice left him. Now he is a detective, but with his knowledge of the bible and angels, he soon comes to realize that there is a second war among the angels going on. This war concerns the souls of all humans. See, a group of angels became jealous when humans were given souls and they weren't. A fallen angel named Gabriel is now lurking around trying to find the darkest of all souls, which was hidden in a little girl, and Thomas has taken it upon himself to save the little girl. Although the story is pretty intriguing, the best part of this film has to be Christopher Walken as Gabriel. There couldn't have been a more perfect choice for Gabriel then Walken. Also, Elias Koteas, a very underrated actor does a good job as Thomas, and Viggo Mortensen shows up near the end as Lucifer in one of the more optimistic characterizations of him we've seen.  The Prophecy is by no means a great film, but it is an entertaining and fairly well thought out one. These religious horror films almost always turn out bad, and it's nice to see that every once in a while, a good one can be made. This is worth a look, if not just for Christopher Walken's performance. 
Melvin White
Super Reviewer
The two sides of an angelic civil war hunt for the soul of a war criminal who may tip the balance of power in a backwater town in Arizona. The Prophecy slipped under the radar at the time because it was a straight to DVD release, but don't let that put you off. Rather than big budget effects and star names, the strengths of this film are in its excellent cast, strong concept and some smart dialogue making for an entertaining off beat thriller. Very much in the vein of the X-Files, The Prophecy combines a police investigation with religious mythology and the supernatural and features some nice Tarantino-esque humour. Christopher Walken's trademark charisma and eccentricities make him perfect for the part of a malevolent angel and Viggo Mortensen makes a memorable Lucifer. This of course means the bad guys are much more interesting than the heroes and the narrative doesn't flow as well as it might; the ending is actually something of an anti-climax. But the good far outweighs the bad in a film that has influenced everything from Dogma to TV show Supernatural. Well worth a look if you're a fan.
The Prophecy Quotes
| | |
| --- | --- |
| Jerry: | "Never trust a fucking angel." |
| Jerry: | Never trust a fucking angel. |
| | |
| --- | --- |
| Angel Gabriel: | "You know how you got that dent, on your top lip? Way back, before you were born, I told you a secret, -- then I put my finger there -- and I said 'Shh.'" |
| Angel Gabriel: | You know how you got that dent, on your top lip? Way back, before you were born, I told you a secret, -- then I put my finger there -- and I said 'Shh. |
| | |
| --- | --- |
| Angel Gabriel: | "Bye kids, study your math! Key to the universe!" |
| Angel Gabriel: | Bye kids, study your math! Key to the universe! |
| | |
| --- | --- |
| Katherine: | "Go to hell!" |
| Katherine: | Go to hell! |
| Angel Gabriel: | "Heaven, darling, Heaven. At least get the zip code right." |
| Angel Gabriel: | Heaven, darling, Heaven. At least get the zip code right. |