Copycat
(1995)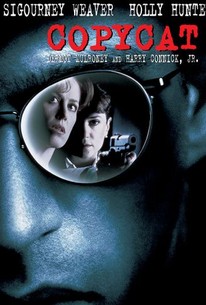 Movie Info
Dr. Helen Hudson (Sigourney Weaver), a psychiatrist famous for her writings about serial murderers, is nearly killed by obsessed psychopath Daryll Lee Cullum (Harry Connick Jr.). As a result of this trauma, Helen becomes a drunken, pill-taking agoraphobic who can't leave her San Francisco apartment. After a series of bizarre murders, she calls the police suggesting that the murders were the work of a serial killer. Detective M.J. Monahan (Holly Hunter) and her assistant Ruben (Dermot Mulroney) believe Helen and discover, during the investigation, that the man is re-creating murders by the killers described in Helen's book: The Boston Strangler, Ted Bundy, Son of Sam and the Hillside Strangler. After Helen's secretary, Andy (John Rothmen) is murdered, Helen begins to fear for her own life. The film has a dramatic, terrifying conclusion as Helen confronts the killer and must overcome her own fears to save herself.
Critic Reviews for Copycat
Audience Reviews for Copycat
Standard serial killer thriller with the hook of the killer especially targeting the academic whose specialty is serial killers. The leads, Weaver and Hunter, lift this into watchable territory. There will be echoes of Silence Of The Lambs, but at least this is a better than average knockoff.
Kevin M. Williams
Super Reviewer
Gripping serial killer thriller that was overshadowed by the release of Se7en a month earlier. Weaver is an agoraphobic psychologist that specialises in serial killers. Holly Hunter is a detective with three similar and unsolved murders on her hands. It soon becomes apparent that these murders are copycat killings. The film is a bit disjointed in its who-done-it first act, before just revealing the killer to the audience. The does eventually work out in the film's favor as it becomes more of a character piece. Patton is wonderful as a jealous ex-lover of Hunter, one that spars verbally with Mulroney, but soon becomes a tragic and sympathetic character. Connick Jr. does well in a batshit bonkers role. The acting and characters carry the movie, even if the material becomes stretched. It's predictable and surprising in equal measure, but contains wonderful moments, such as an unrelated shooting, which intrude on the main plot, but flesh out the characters. Didn't bore me once.
Luke Baldock
Super Reviewer
Tim Salmons
Super Reviewer
Copycat Quotes
There are no approved quotes yet for this movie.