Party Girl
(1995)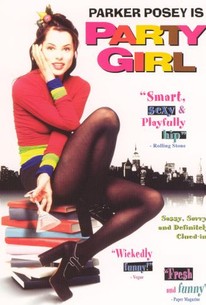 Movie Info
This lightweight, romantic comedy, set in the late '80s, takes viewers into the youthful New York party scene. It follows the adventures of Mary, a bubbly young woman with no clue as to her life's direction. After Mary is arrested for hosting an illegal party and selling alcohol in her loft, she must go to her godmother Judy, a serious librarian, for a job. At first Mary dislikes working there, but in time she finds a real passion for her new job. When not working, she is with her eclectic circle of friends. Mary falls for Mustafa, a Lebanese who runs a falafel stand. They do not spark right away as Mustafa is put off by Mary's superficial flightiness. Finally, one a rainy night, they passionately connect in the library. Afterwards, Mary finds her new career is in jeopardy. Party Girl has a unique position in film history as the first feature to premiere on the Internet (on June 3, 1995, the same day it premiered at the Seattle International Film Festival). In 1996, it had a spin-off into a TV series, also titled Party Girl.
Critic Reviews for Party Girl
Audience Reviews for Party Girl
A quirky, inventive comedy, that comes off as sincere and lovable, as the lead character. Parker Posey ruled the indie films of the nineties, starring in 32 indie films throughout the decade and gaining the nickname "Queen of the Indies." She earns that moniker as the misadjusted misanthropic Gen X party girl Mary. The film starts with a party scene in a New York loft, occupied by all manner of outcasts, including drag queens, bare chested men and glitter covered twentysomethings. The film itself is a look at that generation, at being lost, without a job or a purpose when the world is waiting with an outstretched hand. Mary is a party girl, but not a dolt headed nymphet. She makes money in the beginning of the film running a business, a business based on gluttony and freedom, partying away the shame and indulgences of youth. The film distances itself from that lifestyle, and shows that you can love the world of parties and clubs while reaching a goal for the rest of your life. Mary is neither empty headed nor inherently unambitious, and as she interacts with the different people of her life, (everyone from the New York City public librarians, friends, club promoters, and a food truck vendor) we realize she is multi-faceted. The film reeks of indie in the best possible way. The music is nineties' club music the entire way through, the film itself has nice long shots, no quick cuts, and manages to bring each relationship into focus. This film cemented Parker Posey as the "it girl" of the era and led to a short lived sitcom on Fox. Mary is a candid and earnest character, and simply watching her shift between intense intellectual prowess and party girl proves to be the main interest of the film. Simply one of the best indies of the decade, with one of the best actresses in the lead role.
Spencer S.
Super Reviewer
½
I didn't care for this movie, maybe because I'm not a party girl myself? Now that I think of it, this movie is the 90s version of Breakfast at Tiffany's. The story is boring for the most part, and entirely predictable. I did not like it.
½
Quirky romantic comedy about a flighty, free spirited hedonist. Parker Posey is likable as spunky and sassy Mary, a Holly Golightly for the 90s. We follow her as she learns the intricacies of the Dewey Decimal system, flirts with a falafel vendor and dances the night away at the many house parties she throws. Manhattan's trendy loft and club scene is nicely captured in this Gen X comedy drama from the mid 90s, but stylistically has more in common with 80s films like Desperately Seeking Susan and Something Wild. Also of note is actress Sasha von Scherler, the director's real life mother, who grounds the film as the no-nonsense librarian godmother who hires her.
Mark Hobin
Super Reviewer
Party Girl Quotes
| | |
| --- | --- |
| Mary: | Keith richards would make a better librarian than me. |
| | |
| --- | --- |
| Mary: | A trained monkey learned this system on PBS in a matter of hours! |
| | |
| --- | --- |
| Mary: | ‎"I would like a nice, powerful, mind altering substance. Preferably something that would make my unborn children grow gills." |
| Mary: | I would like a nice, powerful, mind-altering substance. Preferably one that will make my unborn children grow gills. |