The Scarlet Letter
(1995)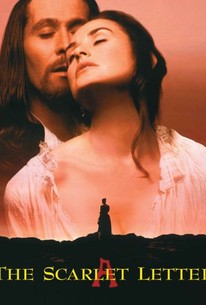 TOMATOMETER
AUDIENCE SCORE
Critic Consensus: The Scarlet Letter strays far from its classic source material to tell a story that strains for steamy sensuality and leaves the audience red with unintentional laughter.
The Scarlet Letter Photos
Movie Info
Any resemblance between this big-budget, sex, violence, and more sex-filled adaptation and Nathaniel Hawthorne's original melodramatic novel of hypocrisy and repression is almost accidental. Instead, this is a free adaptation of the story, meaning the time frame, setting and major character names are the same, but very little else. The prologue depicts a Native American funeral and their restless rumblings about their Puritanical neighbors. The minute Hester sets foot in the town she is treated suspiciously because she chooses to live alone until her husband comes. Not long after her arrival she spies a sexy naked man swimming in a forest pool. Later she discovers that he is the town's new pastor Arthur Dimmesdale. When the two meet they are instantly attracted to each other and it isn't very long before they are expressing their intense attraction physically in the grain bin of a barn. Hester feels no guilt because she has just heard her husband has died. Then she turns up pregnant. The outraged town jails her until the child is born. She then wears the infamous "A" because she refuses to identify the father. If she does, he could be killed. Suddenly her husband, who had been captured by the Indians returns and that is when the trouble really starts.
Critic Reviews for The Scarlet Letter
Audience Reviews for The Scarlet Letter
M'eh. Demi Moore was a poor choice to star in this classic story. She doesn't really have the gravitas to pull it off and she's got zero chemistry with Oldman. I'd recommend it if you don't want to read the book and Cliff's Notes are too expensive. Otherwise, it's not much of a diversion.
Christian C
Super Reviewer
A ridiculously loose adaptation that squanders the depth of its source material in favor of a generic overlong soap opera with laughably ham-fisted symbolism. English teachers may get a good laugh but otherwise stay far away from this star-studded turkey.
Christopher Heim
Super Reviewer
½
When intimacy is forbidden and passion is a sin, love is the most defiant crime of all.
The Scarlet Letter Quotes