Persuasion
(1995)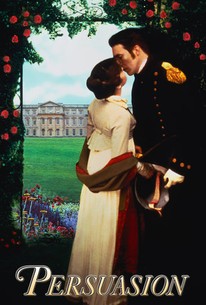 TOMATOMETER
AUDIENCE SCORE
Critic Consensus: Well-acted and absorbing, Persuasion offers a loose Jane Austen adaptation that captures the essence of the author's timeless appeal.
Movie Info
This theatrically released BBC television movie is loosely based on the final novel of Jane Austen. It is set in 1814 when the British navy fleet is returned from fighting the Napoleonic wars. A deeply indebted nobleman, Sir Walter Elliot is forced to lease his estate to Admiral Croft. Among Croft's many friends is the dashing Captain Wentworth who happens to be looking for a suitable wife. Seven years earlier he had been engaged to Elliot's daughter, but on the advice of Lady Russell, he broke it off. Despite that, when he again meets the daughter, it is obvious that she still loves him and the romance gradually picks up where it left off, and the wounds between the two are slowly healed.
Critic Reviews for Persuasion
Audience Reviews for Persuasion
½
File this under films-that-deserve-better-reviews-than-I'm-giving them. I liked it, but I just couldn't get behind it. Persuasion is a mature Jane Austen film, more subdued and grown-up than Pride and Prejudice. The camera work is decidedly unstuffy at certain points. Also refreashing: Amanda Root in the main role. Unlike the conventionally pretty Gwenyth Paltrow and Keira Knightly, she a woman of modest looks (which is actually better for the source material). Austen heroines are never knockouts; they're clever feminists who don't quite belong in their surroundings. But more to the point, Amanda Root carries the film with the sorrow of her eyes, alone. She's perfection.
Joey Nevarez
Super Reviewer
this movie affirms why i love jane austen so much. every little piece of information is an exceptionally juicy piece of gossip. marriage proposals are quickly offered and accepted/rejected. one can dwell on a rejection for many years and never get over it. because the time periods restricts and frowns upon blatant displays of affection, feelings of love must be identified with subtle nuances, such as a look, a word, or a letter. this movie is exceedingly romantic and i lived vicariously through anne. i felt the little heartaches she went through as wentworth callously ignored her. i felt the little jolt of shock as she discovered mr. elliot's true intentions. and my heart caught in my throat as she read the all-revealing letter from wentworth. this movie is a beautiful work of art that both pokes fun at the pretensions of nobility and also contains one of the most heartbreakingly beautiful love stories of all time. (my one complaint: all the characters are not very attractive. i thought mr. elliot was the only decently goodlooking person in the entire movie. anne's sisters were also quite pretty, but i quite disliked them so they don't matter.)
Jennifer Xu
Super Reviewer
The romance in this film could never be equaled. Anne and Wentworth are characters that are not to be forgotten in this amazing adaptation of the Jane Austen novel of the same name.
Persuasion Quotes
There are no approved quotes yet for this movie.