The Nanny
(1965)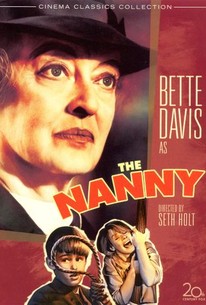 Movie Info
Those contemplating the hiring of a nanny to care for their children and households may not want to watch this convoluted and chilling thriller from Hammer Films. Bette Davis stars as the outwardly perfect nanny whose prim and proper demeanor masks the raving mind and icy heart of a homicidal maniac--at least that is what her ten-year-old charge who has just returned from a mental institution would have people believe.
Critic Reviews for The Nanny
Audience Reviews for The Nanny
One of Hammer Films' most accomplished works. An eerie and ambiguous psychological thriller that deals with some disturbing taboo themes inside family, sort of the common groundwork for novelist Evelyn Piper, the same who wrote the more popular "Bunny Lake is Missing". Filmed in a gloriously stark black and white, effortlessly attaining a claustrophobic, lurid and bleak atmosphere. Bette Davis, reinventing herself in those years as a horror muse after Robert Aldrich's "What ever happened to baby jane?", shows again her subtle but acute acting chops. My only regret is that the end seems watered down, just after reaching its real sense of menace.
Pierluigi Puccini
Super Reviewer
½
I thought for sure that The Nanny was going to turn out to be some campy and gaudy forgettable film in the twilight of the career of Bette Davis. What it actually turns out to be is a sadly overlooked powerhouse performance by Davis that's every bit as horrific as it is beautifully sad. Unfortunately you're probably going to spend most of The Nanny's 90-minute running time hating William Dix's (Joey's) guts when you're not mildly entertained by Pamela Franklin's upstairs neighbor performance. The flashbacks are well done and pretty frightening even if The Nanny isn't the standard Hammer film. It's easy to bunch this one in with What Ever Happened to Baby Jane and Hush, Hush Sweet Charlotte even thought its completely different, but at the same time it reminded me more of Bunny Lake is Missing. For as short of a movie as The Nanny is it's kind of a long watch but worth it in the end.
Michael Gildea
Super Reviewer
Bette is masterful as always, the movie is chilling.
The Nanny Quotes
There are no approved quotes yet for this movie.