Reckless
(1995)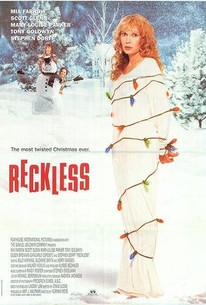 Movie Info
Reckless is a dark, dream-like comedy-fantasy adapted by Craig Lucas from his play that takes place in a strange, hallucinogenic otherworld. Mia Farrow stars as annoying, air-headed housewife Rachel, who discovers on Christmas Eve that her husband Tom (Tony Goldwyn) has arranged for a hit man to murder her. Barely escaping with her life into the snowy wastes of her neighborhood, Rachel crosses paths with a social worker, Lloyd (Scott Glenn), and Lloyd's paraplegic, deaf and mute wife, Pooty (Mary-Louise Parker). Rachel takes up house with the friendly couple, but Lloyd is not quite what he appears to be and the naïve Rachel is forced to flee. This time, her travels take her into contact with a variety of eccentric characters, including game show host Fast Tim Timko (Giancarlo Esposito), the staff of a non-profit group, and a troubled nun. As she crosses America, Rachel visits all 50 states, although she repeatedly ends up in towns called Springfield. Reckless (1995) was the third and final film of director Norman Rene, who passed away the following year. Rene had previously collaborated with Lucas on the films Longtime Companion (1990) and Prelude to a Kiss (1992).
Critic Reviews for Reckless
All Critics (7) | Top Critics (3) | Fresh (1) | Rotten (6)
It's a dark comedy that begins with the creepy underside of Christmas, and branches out into the creepy underside of just about everything else. It's one of those films where you think it's only a dream, and then when everyone wakes up, it's worse.

In this disappointing collaboration between Craig and Norman (Longtime Companion), Mia Farrow plays yet another mousy and abused housewife.
Audience Reviews for Reckless
There are no featured audience reviews yet. Click the link below to see what others say about Reckless!
Reckless Quotes
There are no approved quotes yet for this movie.