Les Misérables
(1995)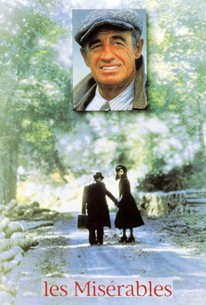 TOMATOMETER
AUDIENCE SCORE
Critic Consensus: Claude Lelouch's Les Misérables takes some surprising liberties with the source material, proving a classic story often holds up regardless of how it's told.
Movie Info
Utilizing an all-star French cast, lavish production values, and a lush score created by three composers, Claude Lelouch's three-hour-long epic reworks Victor Hugo's classic tale and proves that it is still relevant for late-20th century audiences. Hugo's protagonist Jean Valjean, who gets out of jail -- imprisoned for stealing bread -- and finds his attempts to lead a better life constantly thwarted by an obsessive police inspector, is represented by Fortin (Jean Paul Belmondo), a turn-of-the-century chauffeur who is sentenced to 30 years for the murder of his employer following a New Year's Eve celebration. Actually, Fortin is innocent, for his boss committed suicide, but who would listen to a lowly chauffeur? During his incarceration, Fortin's wife becomes so desperately poor that she must sell her body to the lecherous innkeeper for whom she works in order to feed her hungry family. Unable to stand the shame of her actions, the wife hangs herself, leaving her young son Fortin, Jr, to be shuffled from family to family until he is grown. As a result, young Fortin is poorly educated and cannot read; he becomes a champion prizefighter (played by Belmondo's son Paul). Back in prison, the elder Fortin engineers an escape. A betrayer thwarts his plans and in despair, Fortin also kills himself. The story jumps to 1931. By this time Fortin the prizefighter (Jean Paul Belmondo again) has left the ring, purchased a truck and has become a furniture mover. He still cannot read and therefore does not understand when people compare him to Jean Valjean, the protagonist of Hugo's Les Miserables. Ziman is a Jewish lawyer who with his beautiful ballerina wife and daughter wants to flee his opulent Parisian life when the Nazis storm the city. Ziman offers the reluctant Fortin a fortune to take him and his family to the safety of Switzerland. Fortin, however, is not interested in the money. Instead he asks that Ziman read for him a book that he purchased from a bookseller. The book is Les Miserables. In telling this multi-layered, operatic tale, Lelouch points out that Hugo's characters are archetypes for the human condition. Despite the many changes and so-called improvement wrought in the 20th century, the world will be always be populated by the good, the heroic, the cowardly, the selfless, the greedy, the lucky and the tragic. Though Lelouch utilized a stellar French cast ranging from veteran Jean Marais to Annie Girardot (a formerly popular star who made her comeback in this film and won a Cesar for her efforts), it is Jean Paul Belmondo's charismatic performance as the two Fortins that brings this beautifully photographed melodramatic tale to life.
Critic Reviews for Les Misérables
Audience Reviews for Les Misérables
½
A great adaption of Les Miserable to WW2.
Anthony Valletta
Super Reviewer
Les Misérables Quotes
There are no approved quotes yet for this movie.