36 Hours
(1965)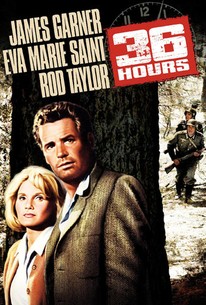 Movie Info
In 1950, Maj. Jefferson Pike (James Garner), an Army intelligence agent who served with distinction in World War II, awakens in a hospital with severe amnesia. He isn't sure where he is, how he got there, or even who the woman at his side is, even though the doctor tells him that her name is Anna (Eva Marie Saint) and that she is his wife. The doctor instructs Pike to recall, in as much detail as possible, what he was doing before the accident that caused his traumatic memory loss. But the doctor isn't a doctor, Anna isn't Pike's wife, it isn't 1950, and he isn't in an American hospital. World War II is still very much in progress, and Pike is being duped in an elaborate scheme prepared by Maj. Walter Gerber (Rod Taylor), a German intelligence agent. Gerber is trying to trick a drugged and suggestible Pike into telling him everything he knows, as the injured soldier lies in a Bavarian military hospital after being taken prisoner. Will Pike be able to see through the cracks in Gerber's facade before he spills the beans that could mean death and defeat for American soldiers? 36 Hours was later remade for TV under the title Breaking Point. TV fans will want to keep an eye peeled for bit parts by James Doohan from Star Trek and John Banner from Hogan's Heroes. ~ Mark Deming, Rovi
Critic Reviews for 36 Hours
Audience Reviews for 36 Hours
½
A seriously entertaining psychological thriller. There's just nothing else quite out there like this. Check it out.
Stephen Skudlarek
Super Reviewer
This is an excellent post World War II Movie, showing a gem of an idea in psycholigal warfare. James Garner plays Maj. Jefferson Pike who knows the details of the Invasion of Normandy. The Germans capture Major Pike, drug him and make him believe that he has amnesia and the war has been over for 6 years, then they question him about the American Invasion into Europe. Eva Marie Saint plays his nurse who in the beginning is working for the Germans but switches mid movie. This is a excellent War Film Noir, not much killing for you light hearted peace lovers out there. Worth every bit of 4 stars and more. By the way My Hero, My Uncle Bubby is a survivor of the Battle of Normandy, a proud man indeed. He gets 5 Stars
Bruce Bruce
Super Reviewer
This is a largely forgotten World War 2 thriller about a man with vital intelligence who is kidnapped by the Nazis 36 hours before the D-Day Invasion. The Nazi?s decided to employ outlandish measures in order to get the information out of him. They build an entire army base, populate it with English speaking actors, and when he wakes up they tell him it is 1950, the war is over and he has amnesia, and they start asking him questions about the last thing he remembers. What?s interesting about all this, is that they do not try to hide the Nazi scheme from the audience, in fact they spend a good twenty minutes going over the elaborate plan in case we don?t get it. This poses a problem; we barely know this guy they kidnapped and instead the main opening exposition is with these Nazis who are outlining an elaborate plan. You start to relate more with these outlandish captors and oddly start to want to see the whole thing work. I do not think this is the effect that the filmmakers had in mind. The whole thing could have had more power if they had instead opened right after he wakes up and have the audience slowly catch on to this crazy scheme, that would have put you more in the shoes of the real protagonist then his captors. Still, it?s a neat piece of high concept cinema, kind of like an above average episode of The Twilight Zone. Unfortunately, they couldn?t really keep the act up for the whole movie, eventually the concept wears off and the film increasingly veers toward less interesting paths. It?s a worthwhile piece of workmanlike cinema, worth a watch if it comes on TV or something.
36 Hours Quotes
There are no approved quotes yet for this movie.