Heavy Metal
(1981)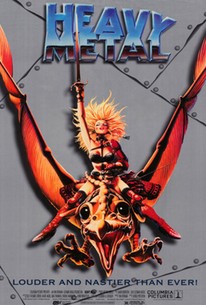 TOMATOMETER
AUDIENCE SCORE
Critic Consensus: It's sexist, juvenile, and dated, but Heavy Metal makes up for its flaws with eye-popping animation and a classic, smartly used soundtrack.
Movie Info
Based on the popular magazine of the same name, this animated cult film interweaves six visionary stories of science fiction and fantasy. The soundtrack includes such rock superstars as Black Sabbath, Blue Oyster Cult, Cheap Trick, Devo, Donald Fagen, Grand Funk Railroad, Sammy Hagar, Journey, Nazareth and Stevie Nicks.
News & Interviews for Heavy Metal
Critic Reviews for Heavy Metal
Audience Reviews for Heavy Metal
I know, it's from 1981; but I bought a copy recently so I had to give it a mention. Great animation in this one! The film in it's entirety has some problems, but if you want some good Sci-Fi animation and a trip into various fantasy realms, I'd say give this a go. For me, it's all about the Taarna segment of the film, but there certainly are many interesting things to see here; especially if you appreciate classic animation that isn't afraid of showing some nudity. Sure it's naked woman drawn in voluptuous fashion which could to some seem sexist, but I feel that is a bit extreme. I would definitely say that would be a sign of the time. What you get is what you take and I took nothing here to be offensive. I know that's easy for me to say as a guy, but I think many people seem to get a bit carried away. So I'm just gonna stay and say tastefully done and very '81(and I mean that as a good thing). The segment set in 2023 New York has things to it reminiscent of "The Fifth Element", perhaps a touch of "Blade Runner", and dare I say Taxi Driver".?That's a bit of a stretch, but there is a cabbie so I can't help but think of it even though it was done five years prior to Heavy Metal. The soundtrack consists of music of the time which would mostly be good, but unfortunately kind of let me down. When I learned there was a Black Sabbath song used, I thought alright as a fan of the band. But the song used is an Ozzy-less Sabbath song(The Mob Rules), so I was disappointed with that. However, Devo's cover of "Working in a Coal Mine" put a smile on my face. Remember those guys with the red flower pots on their heads? Oh, and I should mention there's a glowing green orb known as Loc-Nar flying around which contains the sum total of all evil in the universe to mix things up. Well, I suppose I've said enough.
Oh boy, does this movie have a reputation. That reputation varies from person to person. Whether it's its slammin' animation, the plethora of female nudity, or the amazing metal heavy soundtrack, this film appeals to many different people (mostly men) who either love it for all it is or love it despite its obvious flaws. The film was made in Canadian, is completely animated, and boasts the voices of famous Canadians including Harold Ramis, John Candy, and Eugene Levy. The film is made up of various segments and utilizes a diverse amount of animators. The styles are different throughout, but they are all connected by a glowing green orb that travels the universe and makes trouble for humans, aliens, and inter-dimensional warriors alike. The orb itself has a voice, and is relating these stories about the universe via a conduit that looks like a young girl. The stories are sometimes far too short to make any sense, and most of them revolve around the cult of man or space travel. There is also a very niche sense of humor, relating mostly to teenage boys who like to see robots mate with humans, or stoned alien pilots pull into a port. That's just one short, but there are usually some stagnant bits to each one, or else it only appeals to the male sensibilities. Still, the film overall is pretty great, boasting some interesting animation, ideas, and characters that aren't utilized in animation all that much. The last animated short, where the last warrior in an extinct race takes down the original orb, all while bedecked in skimpy armor and not saying a damned word, was actually empowering and awesome. That last short makes up for a lot, because it's long, paced correctly, and gives us a truly cool female hero, which just doesn't happen enough.
Spencer S.
Super Reviewer
Heavy Metal is a bizarre animated anthology that doesn't make a whole lot of sense. Which is probably why it's pretty awesome. Based on a series of stories from a magazine of the same name, Heavy Metal takes a number of different animated styles and creates some science-fiction tales that are loosely connected thanks to a big glowing green thing called the Loc Mar. The tales range in absurdity and quality, but most have time to strip a woman naked for very simplistic reasons, such as thanking a man or tricking a man. SOme stories are very Twilight Zone-esque, such as the tale of Zombies in a bomber. But others are just weird, such as the woman taken into space, where she has coitus with a robot and the pilots of the ship are doing drugs. It really did feel like a long bizarre music video, with a bunch of stories that never really concluded properly. Some fantastic designs, good soundtrack, and things you are bound to not see anywhere else, means this is a strange curiosity you should definitely see at least once in your life.
Luke Baldock
Super Reviewer
Heavy Metal Quotes
| | |
| --- | --- |
| Grimaldi/Co-Pilot/Barbarian: | Look upon me... one... final... time. See as I destroy your race. Then prepare to die. |
| | |
| --- | --- |
| Ard: | If you refuse, you die; she dies... everybody dies! |