Restoration
(1996)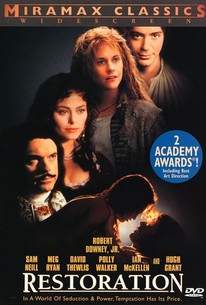 TOMATOMETER
AUDIENCE SCORE
Critic Consensus: Restoration spins an engaging period yarn out of its bestselling source material, brought to life through the efforts of an eclectic ensemble cast led by Robert Downey Jr.
Movie Info
This lavish historical drama based on the acclaimed novel by Rose Tremain won Oscars for Costume Design and Art Direction. Robert Downey, Jr. stars as Robert Merivel, a gifted medical student of the 17th century who ignores his studies in favor of pursuing debauched fun -- much to the consternation of his high-minded Quaker colleague John Pearce (David Thewlis). Merivel achieves the high societal status he covets when he's summoned by King Charles II (Sam Neill). Merivel is chagrined to find that he's expected to care for the king's ailing spaniel, but the dog rallies and Merivel joins court. When one of Charles' mistresses, Celia (Polly Walker) becomes uppity, Charles arranges her marriage to Merivel. In return for keeping Celia in a pretend marriage, he receives an estate and knighthood. Merivel, however, falls in love with Celia and, betrayed by an eccentric painter (Hugh Grant), inspires the king's wrath. Banished and stripped of his wealth, Merivel rediscovers love with an Irish mental patient (Meg Ryan). He also rediscovers his passion for medicine during London's Great Fire and the Black Plague.
Critic Reviews for Restoration
Audience Reviews for Restoration
½
An interesting movie about the choices one makes in their lives. Robert Downey is a 17th century physician who first makes a number of self-indulgent choices which backfire on him and he loses everything. He then is basically forced into helping in the efforts to fight the plague and since this the movies after all, things turn out fairly well for him. I downgraded my ranking by one star because I watched Restoration a few years after the first time I had seen it, and had no idea that I had already seen it. I figured if I had totally forgotten I had ever seen it in the first place, it could not have been as good as I had rated it to start with.
½
Restoration is the sort of period piece that succeeds almost entirely in its world building. Set during the mid 1600s, after the English Civil War, the film revokes around a young physician and his escapades with the Royal aristocratic establishment. We see the evolution of his fall, discovery, and rise, set against a genuine historical period. The thing that sets Restoration a part is its unique story-line. Certainly the themes are familiar, but Restoration is very ambitious in how it sets about resolving its plot. The film is expansive, introducing several main characters, and at various stages. We see Downey's character over a period of years, yet the film never feels rushed, paying off its story-lines well. That the film introduces major characters and hints at sub plots, but instead focuses its attention elsewhere, was refreshing, never feeling predictable (until the final act). The entire progression of Restoration was not concerned with hitting on plot points, being more concerned with immersing Downey's character in a variety of situations, and watching his development from there. The one drawback with Restoration's expansive nature, however, is that we lack one central dramatic through line to anchor us. Downey's performance is strong, as are the others, but with the shifts in focus, the viewer can feel a bit disengaged, making it harder to keep us empathetic with the actions of those involved. Still, the script does a good job of providing us interestingy characters, and was intelligently written, with a keen sense of dialogue. Overall, Restoration is a mature period piece for those that enjoy sophisticated world building and interesting characters, albeit with plot that is not quite as impacting. 3.5/5 Stars
Jeffrey Meyers
Super Reviewer
½
Lavish production and a veritable glitterati of talent cannot hide a meandering script about a young doctor in old London who's seduced by the power, money and privilege of life in the court of the king.
Kevin M. Williams
Super Reviewer
Restoration Quotes
| | |
| --- | --- |
| Robert Merivel: | Fear is our greatest enemy, and hope is our greatest weapon against the disease. |
| Robert Merivel: | Fear is our greatest enemy and hope is our greatest weapon against the disease. |