Black Sheep
(1996)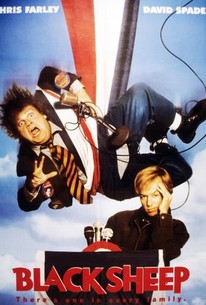 TOMATOMETER
AUDIENCE SCORE
Critic Consensus: Chris Farley and David Spade reunite to diminishing returns in Black Sheep, a comedic retread that succumbs to a woolly plot and sophomoric jokes.
Movie Info
Handsome, smooth-talking Al Donnelly (Tim Matheson) has everything going for him. A politician, he is engaged in a heated gubernatorial race with the feisty Governor Tracy (Christine Ebersole), a tough old bird who doesn't hesitate to play hardball with opponents. Unfortunately for her, things are looking good for Donnelly. Fortunately she finds his Achilles' heel with his young brother Mike Donnelly (Saturday Night Live alumnus Chris Farley), a fat slob gym teacher and hopeless imbecile who only wants to win his more successful sibling's respect. Unfortunately all he does is embarrass poor Al to death. In desperation, Al assigns the sardonic and prissy Steve Dodds (David Spade) to keep Mike under constant surveillance. The real trouble begins when Tracy's aids try to frame hapless Mike for arson.
Critic Reviews for Black Sheep
Audience Reviews for Black Sheep
Made simply because 'Tommy Boy' was an unexpected success, clearly somewhat rushed and not fully thought through. I have read that 'Paramount' just wanted to team Spade and Farley together again asap, so we have this blunt comedy. The idea isn't too bad, its all about a political campaign battle between the brother of Farley's character and the wholesome all American 'Evelyn Tracy' played by Christine Ebersole. As you can guess Farley's character is a clumsy embarrassment to his brother (played by Tim Matheson) and inadvertently causes all manner of horrendous goofs whilst in the public eye. This of course puts his brothers campaign in jeopardy of which his rival tries to take full advantage of. Same old Farley I'm afraid which isn't too bad if you like the guy. I have said before and I'll say again I do like his antics, he is a funny fella and his films are nice feel good films where you can forget about any troubles you have. I also like how he tends to play the everyday man, regular Joe's, makes you connect with him that bit more. Despite liking Farley this film does feel very forced with very little to show. The laughs are few and far between and what we do get is light at best. There are whole segments in the film where nothing really happens, the sequence where the pair find a bat in their wood cabin and spend almost ten minutes of the film dealing with it. There is a lot of lame filler which really has nothing to do with the plot, its just there to try and gain a laugh whilst padding out the film, or so it seems. Even as a Farley fan I found it hard to enjoy this, there really doesn't seem to be any point to Farley and Spade being together here and half of what happens is irrelevant. I can't complain too much because this is obviously a dumb comedy, its not suppose to be anything else, but even so it feels very cheap and half hearted. In the end it really does feel like the two leads were simply thrown together for a fast money spinner off the back of a much better earlier comedy.
Phil Hubbs
Super Reviewer
½
"I liked it better the first time when it was called Tommy Boy!" was the general response to this film when it came out. Yes, it does look like a replica of Spade and Farley's previous film on the surface, but the plot and theme are somewhat different. I would recommend that only fans of this comedy duo watch this movie. It's not as good as Tommy Boy, but if you just want more of this duo, you'll enjoy it anyway.
½
This is the type of film that if you watch it, it becomes less and less funnier with every viewing. This is essential a rehash of ideas previously written in Farley's other comedy, Tommy Boy. Tommy was a superior film to this, but not by much. Still despite all the flaws, Chris Farley is a better comedian than Will Ferrell. But this is not Farley best work. Tommy Boy is his funniest. Unfortunately, Farley did have a chance to really make a laugh out loud comedy, his career was tragically cut short. But for what it's worth this was his lowest point as an actor. He make me laugh more than Will Ferrell. Black Sheep, is an average comedy with a few laughs, but nothing great or memorable to be found here.
Black Sheep Quotes
| | |
| --- | --- |
| Mike Donnelly: | [after he and Steve narrowly escape Drake's minefield front yard] This guy's got a hell of a security system! [upon seeing the inside of Drake's camper] Ready to start filming, Mr. Stone. |
| | |
| --- | --- |
| Mike Donnelly: | [after driving over a bump in the road] What the hell was that?! |
| Steve Dodds: | A chunk in the road or something. |
| Mike Donnelly: | I just chunked in my pants. |
| | |
| --- | --- |
| Governor Tracy: | [annoyed] Neuschwander, are you finished stirring that drink or is this some kind of fucking science experiment? |
| | |
| --- | --- |
| Mike Donnelly: | [dressed as security guard, talking to a troublemaker] Please move away from this vector and get into another coordinate pronto. There's no access for you in this quadrant. |
| Tough Kid: | Man, why don't you goose-step on down to the women and children over there and give them your little power trip, because they may be impressed by it, asshole! |
| Mike Donnelly: | Young man, I'm gonna twist off your head and spike it onto the floors of a nightmare you can't even imagine! I will dance with you inside the six-sided ring of fire, unless you move from this area, far and fast! NOW! [steam comes from his ears] |
| Tough Kid: | [stunned] Wow. [he leaves] |