The Arrival
(1996)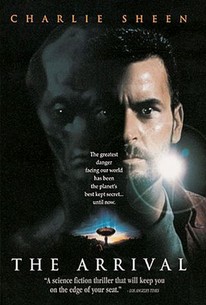 Movie Info
A shy radio telescope operator named Zane Ziminski (Charlie Sheen) picks up a series of regular signals coming from space -- and deliberately pointed toward Earth. Convinced that he has discovered alien transmissions, Ziminski is first chastised and then fired by his boss (Ron Silver). Obsessed, he builds a makeshift radio telescope in his house to find out where the signals were sent. Convinced that they're intended for aliens already hidden on Earth, he tracks them to a bleak, isolated Mexican village, where he joins forces with a female scientist (Lindsay Crouse), who has suspicions of her own after witnessing an acceleration of global warming. The villagers turn out to be aliens, and the village a front for an underground alien complex. The aliens are here to "terraform" Earth and prepare it for the arrival of the rest of their race, who will die unless they leave their homeworld and colonize elsewhere. Only Ziminski can stop them. Written and directed by David N. Twohy, The Arrival is a throwback to the genre chillers of the '50s. ~ Don Kaye, Rovi
Critic Reviews for The Arrival
Audience Reviews for The Arrival
I remember very little about this film to give it a higher rating than this. I'll have to revisit it one day.
Tim Salmons
Super Reviewer
Not a bad movie. Typical science fiction - aliens are on earth, and only one guy (Charlie Sheen) does something about it - even though he gets fired, loses his girl friend, has friends die mysteriously, gets framed for murder, etc.
Jason Spencer
Super Reviewer
The Arrival Quotes
There are no approved quotes yet for this movie.