Cold Comfort Farm
(1996)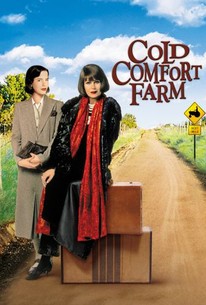 Movie Info
In 1930s England, Flora, a sophisticated young woman suddenly left penniless, seeks refuge with her eccentric relatives at the extremely shabby Cold Comfort Farm. Her presence disturbs and ultimately reinvigorates the torpid household in this witty, literary comedy, which parodies the works of Jane Austen and numerous other English novelists.
Critic Reviews for Cold Comfort Farm
Audience Reviews for Cold Comfort Farm
½
Cold Comfort Farm is a delightful tale based on the book of the same name. Set in the 1940s, this story about a young orphaned girl who goes off to live with her distant relatives and bring happiness into their lives was a joy to watch. Kate Beckinsale really impresses here, as does the rest of the cast. Favorites like Ian Mckellen and Rupert Sewell also pop in the supporting cast and give terrific performances. The cinematography is just gorgeous. The big city scenes and the down-home country scenes really work well together, for a lovely blend of old-fashioned 40's mixed with ideal country establishment. The score is also noteworthy as it really lends itself to the story, giving it a peppy and upbeat feeling that is never tiresome and somehow keeps the story grounded, rather than fleeting. My only real problem with the film I guess would be the beginning of the story, as it is a bit slow to get going. The opening shot of the film of a young girl "seeing something nasty in the work shed" isn't really necessary at all. Furthermore, that whole idea that the film is centered around is never resolved, even though it plays a major part, so for me, that opening doesn't feel appropriate for this movie. Also, the sudden changes and motives in the film's characters, particularly Aunt Aida, are very sudden and not given much lead-in, but then again, perhaps they aren't necessary. I just felt that the characters in the movie change their minds rather quickly without much forethought. Still, the film is very enjoyable and delightful, as I've said before. It's always nice to see a film about people who change their lives for the better, particularly in such an upbeat and pleasant way.
Tim Salmons
Super Reviewer
Leigh Ryan
Super Reviewer
½
This film is a lot of fun and has a cast of brilliant British actors. Everyone is great, but especially fun is the cameo by Joanna Lumley as the Aunt with a passion for bustiers & bra's. And when I say "passion" I mean that she has a vertiable museum of them in her home and speaks about them each as if they were her lovers. I saw something nasty in the wood shed!
Cold Comfort Farm Quotes
There are no approved quotes yet for this movie.