The Rock
(1996)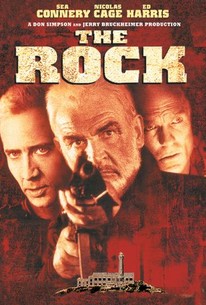 Movie Info
The sophomore film from former music video and commercial director Michael Bay, this fast-paced action yarn featured rapid-fire editing, a cutting-edge rock soundtrack and liberal use of shots awash in a haze of burnished hues, all trademarks of producers Don Simpson and Jerry Bruckheimer. Nicolas Cage stars as Stanley Goodspeed, an FBI chemical weapons expert handed a unique assignment. Francis X. Hummel (Ed Harris), an insane Marine Corps general, has taken 81 tourists hostage on the abandoned island prison of Alcatraz. He and his men are threatening to bomb San Francisco with deadly gas unless $100 million is paid in war reparations to the families of servicemen killed in covert operations. Goodspeed is teamed with former British spy John Patrick Mason (Sean Connery), the only man ever to escape "The Rock," as well as a Navy SEAL team. When their military escorts are ambushed, it's up to odd couple Goodspeed and Mason to break into Alcatraz and stop Hummel. The Rock was the last film produced by Simpson, who died of a drug overdose before the film's release. Solo, his partner Bruckheimer continued making the sort of glossy, frenetic films for which the duo was famed. ~ Karl Williams, Rovi
Critic Reviews for The Rock
Audience Reviews for The Rock
A thrilling and explosive film led by a trio of fantastic actors (especially Cage) and surprisingly well directed for a Michael Bay movie, and it also impresses with the way that the smart script introduces many narrative elements which turn out to play an important role later on.
Carlos Magalhães
Super Reviewer
The pace is too fast to stop and think about the ridiculousness of this film and this summer blockbuster extraordinaire pulls you in.
Graham Jones
Super Reviewer
Michael Bay's second feature film and his best. The film demonstrates everything that was exhilarating about 90's action flicks. The film is full of exciting gun fights, a great car chase in the middle of San Francisco, and explosions. When Michael Bay blows things up, he blows them up good. Despite the film's overall silly premise, the actors make it believable. The three main leads give fantastic performances. Nicolas Cage is funny, and Ed Harris gives a surprising amount of depth to his character. The guy that steals the show however, is Sean Connery. Every line that comes out of his mouth, is priceless. Michael Bay sets out to make fun popcorn flicks and in this instance, he succeeds with flying colors.
Christopher Heim
Super Reviewer
The Rock Quotes
| | |
| --- | --- |
| Stanley Goodspeed: | If the rocket renders it aerosol, it could take out an entire city of people. |
| John Patrick Mason: | Really? And what happens if you drop one? |
| Stanley Goodspeed: | Well, happily, it will just wipe just you and me |
| John Patrick Mason: | How? |
| Stanley Goodspeed: | It's a cholinesterase inhibitor. It stops the brain from sending messages down the spinal cord within 30 seconds. Any epidermal exposure or inhalation and you'll a twinge at the small of your back as the poison seizes your nervous system... DO NOT MOVE THAT! Your muscles freezes, you can't breathe, you spasm so hard you break your back and spit your guts out. But that's after your skin melts off. |
| John Patrick Mason: | My God. |
| Stanley Goodspeed: | Well, I think we'd like God on our side at the moment, don't you? |
| | |
| --- | --- |
| Stanley Goodspeed: | I love pressure, I eat it for breakfast! |
| | |
| --- | --- |
| John Patrick Mason: | The Rock has become a tourist attraction? |
| | |
| --- | --- |
| Stanley Goodspeed: | Look, I'm just a biochemist. Most of the time, I work in a little glass jar and lead a very uneventful life. I drive a Volvo, a beige one. But what I'm dealing with here is one of the most deadly substances the earth has ever known, so what say you cut me some FRIGGIN' SLACK? |