The Phantom
(1996)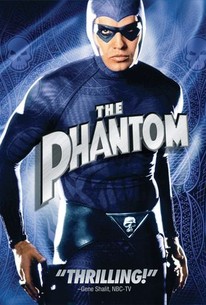 TOMATOMETER
AUDIENCE SCORE
Critic Consensus: The script gives Billy Zane little to work with, and thus he plays the Phantom as a friendly but completely one-dimensional hero.
Movie Info
The first superhero ever, created by Lee Falk in 1936, gets another shot at movie stardom 60 years after achieving fame in comics and serials. Billy Zane stars as Kit Walker, who discovers that he's the 21st in a line of purple-clad African superheroes known as "The Phantom" or, to superstitious Bengalla Island natives, "the Ghost Who Walks." When he's not fighting the evil Singh Brotherhood with his faithful wolf Devil and white horse Hero, the Phantom lives in the hidden Skull Cave. Kit discovers that Xander Drax (Treat Williams), a slimy industrialist, is plotting to take over the world by uniting the three long lost magical Skulls of Touganda. So he travels to New York, where he finds allies in crusading newspaper publisher Dave (Bill Smitrovich) and his niece, Diana (Kristy Swanson), who's also Kit's ex-girlfriend. Kit and Diana tackle Drax's forces, including the conflicted Sala (Catherine Zeta-Jones), in a quest for the Skulls that brings both sides back to Bengalla for a showdown. The Phantom's mixture of elaborate stunts with liberal doses of tongue-in-cheek humor was characteristic of screenwriter Jeffrey Boam, whose previous films included Innerspace (1987) and Indiana Jones and the Last Crusade (1989).
Critic Reviews for The Phantom
Audience Reviews for The Phantom
If you cross Indiana Jones with Tarzan and mix in some 'Goonies' type pirate tomfoolery then you pretty much have this fun cheesy boys own adventure. Actually if I think about it some more you could also throw in some camp Batman and Robin from the classic 60's series in certain sequences, it does get a little bit too hammy in places I must say hehe. Like Batman the Phantom has no super powers, he merely relies on his strength, intelligence and the fact people think he's an immortal ghost...oh and he lives in a cave. So basically he is Batman but with less cash to have hi-tech...and minus Robin for a couple of wild animals he trained. Of course it is suppose to be almost a pantomine type flick with lots of silly lines and caddish villains, but it is a touch too childish for me in places, where as other pulp comicbook character adaptations like 'The Shadow' are a bit more serious. The Phantom's world is a pretty looking universe I must say, the jungle lair, 30's New York and the museum set where one of the skulls is kept, are all really well created. They have that lovely thick structured wooden stylish design with that nice dark noirish colour range (much like 'The Shadow'). The story of this character is just as cheesy as his attire. A boy (400 years in the past) witnesses the murder of his father by some pirates who attack their ship. The boy is washed ashore and gets looked after by some tribes folk. They give him the Skull Ring for some reason and because of this he decides to dedicate his life to stopping naughty people...by becoming the masked avenger The Phantom. This role is passed down from father to son over generations (along with the Skull Ring) and leads to the rumour that the Phantom is an immortal crime fighter (everyone thinks all these Phantoms over the hundreds of years are the same one person). So its all a bit Batman-ish really (but Batman came first!), the rest of the plot mainly involves the Phantom searching for skulls that have great power of destruction and stopping bad guys from getting their hands on them (in the present day of 1938). Simple cliched stuff really. Effects are dated now of course and the fights do look rather gentle, hell even back when the film was released it wasn't that great effects and stunts wise. I almost expected Kapow! to flash across the screen when Zane punched one of the cookie cutter henchmen baddies. Its a good fun film which kids will enjoy and is set totally within the classic period of the comicbook action genre, old school superheroes. You just have to look at the main villains name...'Xander Drax', could that be anymore ridiculously over the top? Oh and pools of man eating sharks? is this a Bond movie? In all honesty the Phantom isn't really a great character to put on film as he's a bit too dated and soft looking with his natty purple tights and simple black face mask which only covers his eyes. The fact he has a wolf and horse as his loyal sidekicks is also kinda odd really, odd combination wouldn't you think, plus he does look a bit daft on that horse in his purple catsuit. Didn't really think much of the pirates that make up the bad guys either, especially at the end which really turns into Schumacher-esque type affair. I must say I think Treat Williams was miscast as the main villain, I'm sure they could have found someone more caddish looking. But overall its all taken from the original source material (three stories) so that's good I suppose, its just the original stories and ideas are predictably very out of time now. I love how no one recognises 'Kit Walker' when he dons his Phantom black mask, just like Robin its so stupid that no one see right through it...figuratively speaking. Despite the rather familiar plot involving mystical skulls and ancient tribes ('Indiana Jones and the Temple of Doom'?), the film doesn't beat around the bush and gives you exactly what it says on the tin. A very light-hearted period set superhero flick with lots of charm dames cads and a dashing hero in a tight purple catsuit.
Phil Hubbs
Super Reviewer
½
Very Indiana-Jones-esque adaptation of the classic comic adventures of the just and mysterious hero. While some parts reek of B-movies, others are genuinely fun, especially the set pieces in the beginning and end really work, as well as the landscapes and action sequences. Everything between those is somewhat well-known and not very surprising. But the cast had obviously fun shooting this and it shows. Shallow but very entertaining.
Slated upon its release in 1996, The Phantom has never been on the top of anyone's favourite superhero list. I remember the character from Defenders Of The Earth (Defenders), but that's about it. This film isn't spectacular, but like some other films I've watched recently for the first time since their mid-90s releases, it's actually a nice change of pace from the current market. The Phantom has Billy Zane as the ghost that walks. A man who protects the deep dark jungles by riding a horse and brandishing pistols. See, he isn't your average hero. That's part of the quirky charm. It's more of an action adventure film than a superhero piece, but the practical effects and stunts are great to look at. The characters are all cheesy and fun, especially the likes of Remar and Zeta-Jones. It was like stepping back into a time machine before filmmakers had put all of their trust into computers. Will certainly need a viewer who can appreciate the camp and corny, but those that do should be highly rewarded.
Luke Baldock
Super Reviewer
The Phantom Quotes
| | |
| --- | --- |
| Xander Drax: | All right, what's your name? Why do you want that skull so badly? |
| Phanton/Kit Walker: | Kit Walker. |
| Xander Drax: | Huh, and who is Kit Walker? |
| Phanton/Kit Walker: | I am. |
| Xander Drax: | And what about the skull? |
| Phanton/Kit Walker: | It'd go well with my drapes. |