The Island of Dr. Moreau
(1996)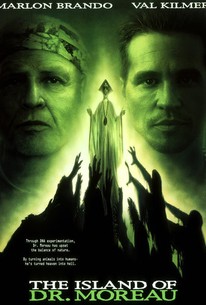 The Island of Dr. Moreau Photos
Movie Info
This is the third movie to bring parts of early 20th-century writer H.G. Wells' book The Island of Dr. Moreau to the screen. Earlier versions (1933, 1977) adhered more closely to the story than this one does. Douglas (David Thewlis) is a U.N. peace negotiator who is stranded in the middle of the Pacific Ocean by an airplane crash. He is picked out of the water by Montgomery (Val Kilmer), Dr. Moreau's assistant, and taken to a tropical island. He is at first prevented from straying much beyond the doctor's house and is befriended by Dr. Moreau's daughter (Fairuza Balk). Gradually he discovers that Dr. Moreau (Marlon Brando) has been mixing human and animal genes to create chimeras intended to serve the human race as slaves. The chimeras are not content to serve, however, and the situation unravels from there. One of the film's many lowlights is Ron Perlman as Sayer of the Law in a send-up of Charleton Heston's Moses. Brando and Balk manage to give interesting performances, but for the most part the film is a tedious and unpleasant exercise overwhelmed by garish make-up and animal costuming.
Critic Reviews for The Island of Dr. Moreau
Audience Reviews for The Island of Dr. Moreau
I genuinely can't begin to describe how bizarre this movie is. I almost recommend it just for people to see how bad movies can get.
Joe McCall
Super Reviewer
½
Brando and Kilmer are both totally off their rockers in this. Kudos to Frankenheimer for just finishing this flawed, but slightly interesting film. Stan Winston's make up is also incredible.
Ken Stachnik
Super Reviewer
Tim Salmons
Super Reviewer
The Island of Dr. Moreau Quotes
There are no approved quotes yet for this movie.