Kingpin
(1996)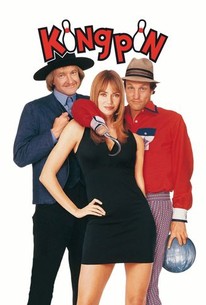 Movie Info
In the '70s, Roy Munsen (Woody Harrelson) was a bowling phenomenon. He was none too sharp about picking friends, though, and the champion he had to beat, "Big Ern," takes him under his supposedly friendly wing. Big Ern (Bill Murray) shows him the high-living lifestyle, and induces him to go on the road with him, hustling small-town bowlers. A couple of the men he bilks take exception to the scam, and show their displeasure with Roy by mangling his hand. Twenty years later, Roy (who now has a hook in place of his hand), earns his living as a salesman. On a visit to a bowling alley, he cannot help but notice the incredible talents of an Amish boy, Ishmael (Randy Quaid). Bowling is not part of the Amish lifestyle, but Ishmael occasionally sneaks into the bowling alley and plays a frame or two. Roy takes Ishmael under his wing, and together they begin a quest for bowling success. This comedy is directed by Peter and Robert Farrelly, who also directed Dumb and Dumber. Like those comedies, it contains a lot of gross-out jokes and bathroom humor.
Critic Reviews for Kingpin
Audience Reviews for Kingpin
The Farrelly Brothers have made some very memorable comedies. Dumb & Dumber, There's Something About Mary, Me, Myself & Irene to name a few. Kingpin though is one of their best. Kingpin is the story of a once great bowler who due to a con gone awry got his bowling hand cut off, thus ending his career. Twenty years later, Roy Munson is a down on his luck sales who one day discovers at a bowling alley, a talented Amish bowler. Roy proceeds to take the Amish Boy, Ishmael under his wiong and proceed to make him a bowling champion. Kingpin is a hilarious comedy with some of the funniest gags I've seen in a comedy. Woody Harrelson and Randy Quaid are terrific on screen, and Bill Murray also delivers some laughs in the role of Ernie McCracken. The Farrelly Brothers continue to build on the comedy after their film Dumb & Dumber, but this time, their comedy a lot more confident here than it was with Dumb & Dumber. Dumb & Dumber felt it had to prove something to be a great comedy, but Kaingpin feels more confident about the subject and its actually at times more funny. Dumb & Dumber is a classic, but Kingpin feels like the Farrelly Brothers didn't have to prove themselves as good comedy writers. The comedy here is original , fun, and hilarious. Kingpin is an overlooked Farrelly Brothers film that shouldn't be passed up, Dumb & Dumber was great, but Kingpin is just as worthy a follow up to their classic than anything. Kingpin is an unforgettable comedy with lots of laughs.
how this film can be rated any less than a ten is beyond me. the tragic character of Roy Munson is genius in itself but the true golden star of this film is Ernie McCracken played by bill Murray. an egotistical, vindictive bowling champ who's only ambitions are to bowl and fondle! the film is chock full with gags and more importantly original ones. the film takes us through the effervescence of young Roy Munson and his god given gift (bowling) and hammers us down with his sad demise. he find solace in booze and ...well more booze until he hits the jackpot with the sound of one strike. through Roy's struggle to climb out of the gutter his tormented past comes back to haunt him and the story evolves into one of courage,friendship and extreme stupidity. the best selling point i can give to people who have yet to indulge is simply this, i very rarely laugh out loud at a film but my sides were in agony after watching this and i think i may of ruptured something.
MisterYoda ?
Super Reviewer
I've never been a huge fan of this movie, but it's not terrible. I just wasn't crazy about the plot and I think the Farrelly Brothers just went way too overboard with the kooky characters. Bill Murray was hilarious as a villainous bowler and made the movie worthwhile.
Conner Rainwater
Super Reviewer
Kingpin Quotes
| | |
| --- | --- |
| Roy Munson: | and this whole area is in danger of being contaminated by a huge cloud of.......S#it. |
| Roy Munson: | Yeah, a big military train derailed and this whole area is in danger of being contaminated by a huge cloud of... Shit! |
| | |
| --- | --- |
| Roy Munson: | (no one talking) who you calling a psycho. |
| Roy Munson: | [no one talking] Who you calling a psycho. |
| Roy Munson: | [no one talking] Who you calling a psycho? |
| | |
| --- | --- |
| Roy Munson: | you call this a bowling alley. |
| Roy Munson: | You call this a bowling alley. |
| | |
| --- | --- |
| Ishmael: | 10 frames, thats for quakers. |