Chain Reaction
(1996)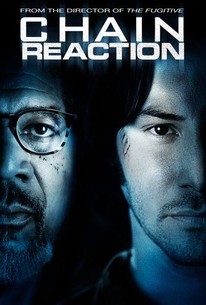 TOMATOMETER
AUDIENCE SCORE
Critic Consensus: Ironic given the scientific breakthrough at the story's core, Chain Reaction is a man-on-the-run thriller that mostly sticks to generic formula.
Movie Info
Just as the university research team is about to prove that their new technique will permit water to be used as a fuel, their laboratory is sabotaged and the lab manager is killed. Eddie Kasalivich (Keanu Reeves) stumbles onto the scene and manages not only to witness the sabotage, but to escape from it. When he tries to talk about it to authorities, he discovers that they think he and the other project survivors committed the crime. In reality, a group of energy companies have conspired with interested parties in the government to completely erase all notion of the existence of a way to use water as fuel. The project sponsor (Morgan Freeman) wants Eddie to turn himself in, but before he can do that, he must find enough evidence to clear himself and his friends. But in order to succeed, Eddie must avoid assassination attempts by the real perpetrators. ~ Clarke Fountain, Rovi
Critic Reviews for Chain Reaction
Audience Reviews for Chain Reaction
I remember seeing the trailer for this film way back in 96 at the cinema. It looked really quite cool and exciting, Reeves was flying high at the time and it boasted some snazzy CGI, talk about deceptive! The whole film seemed to be centred around one sequence. That sequence being the huge explosion that occurs near the start and wipes out a vast area of Chicago, nuclear in appearance. Now this was back in the days when CGI was still a newish weapon and big flashy destructive sequences like this were looked upon as impressive and breaking the barrier. Looking back it is a nice effect but of course its dated and the cracks are showing, but I'm not gonna moan about that. The problem is the rest of the film is really quite dull, visuals are dull, action is dull and the acting is even dull despite a very good cast line up. Reeves is his usual monotone self, Weisz is a complete drip and Freeman now looks pretty cliched in his natty Malcolm X looking 90's suit and hat. It really does feel like they wanted to show off their CGI destruction sequence so they made an entire film around that one moment. A completely by the numbers action thriller (if you can call it that) that covers every aspect you'd expect from the fugitive chase movie book. Bland boring so very very predictable and the films title is one of those totally meaningless but cool sounding types that looks even cooler with a striking font.
Phil Hubbs
Super Reviewer
Reaction Time 8-4-96 Saw it again! Good movie! Anyone want to venture a guess that Keanu Reeves was sorry he passed up Speed 2 to make this turkey? Despite the fact that it is instantly forgettable, CHAIN REACTION is a fairly decent sci-fi actioneer. The writers deserve to be commended for their original storyline, in which a scientific team discovers a low-cost fuel source reliant only on water.The action and thrills are never first-rate, and things drag on a tad too long, but somehow, CHAIN REACTION is better than the sum of its parts. Nevertheless watch it when you have the chance, nice cast. Eddie Kasalivich, an undergraduate at the University of Chicago, works as a technician for a scientific team that discovers an alternative, low-cost, pollution-free fuel source. When one of the chief scientists is murdered and the invention stolen, Eddie and physicist Lily Sinclair are framed for it and have to flee for their lives, with the FBI, CIA and other involved parties in close pursuit. Paul Shannon, Eddies mentor, is the director of a scientific company which - unknown to Eddie - has commercial interests in the invention. Eddie and Lily set out to find the stolen invention and hopefully clear themselves of the false charges.
½
Pretty poor but saved from being awful by the great Morgan Freeman and the brilliant Rachel Weisz. Pretty much your average popcorn film.
Sarah Gaish
Super Reviewer
Chain Reaction Quotes
There are no approved quotes yet for this movie.