The Dentist
(1996)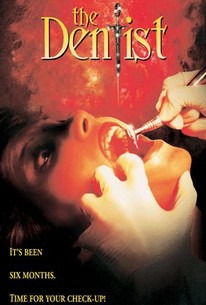 Movie Info
In this horror-comedy, a dentist discovers his wife's infidelity and goes off the deep end. Now anybody who sits in his chair is a goner.
News & Interviews for The Dentist
Critic Reviews for The Dentist
Audience Reviews for The Dentist
The Dentist is a film that brings new meaning to oral hygiene. Everyone has had a fear of their dentist when they were younger. With this film, it'll make you revisit that. Although nothing special, this is a flick that is pretty well done and has an interesting plot. Corbin Benson is well cast as Dr. Feinstone, and delivers a truly demented performance. I think the concept of the film good, but it does lack in some aspects. You can clearly see where the filmmaker's messed up and at times the film goes into tongue in cheek territory and at times become a bit silly. Near the film's conclusion, you realize that this is the type of horror flick that belongs in the so bad it's good category. Nonetheless, this is a fun little low-budget affair despite its silliness and it does succeed at freaking out the viewer. The direction by Brian Yuzna is effective at building the thrills. If you hate dentists already, then this film will definitely elevate your fear of them and make you avoid your next check up. I really enjoyed the film, and Corbin Benson is awesome in the lead role. With effective gore effects, this is one demented little horror yarn that is a bit underrated. For what it is, this film is worth seeing and does provide an entertaining hour and a half of twisted fun. I wouldn't recommend this film to people who are scared of dentists, as this film will give you more reasons to despise them. The Dentist is a surprising Slasher and despite it not being excellent, it still manages to be appealing and should be seen by fans of the genre.
I don't like Dentist to begin with, who does. After this movie I like them even less. This is a Pretty Good Film from Lions Gate. The Sound of the Drill comes through my speakers and just sends chills up my spine. What the dentist does to those he wants out of his life will make you cringe. The instruments are enough to make you say oh H*#$ No. Its worth 3 stars and its worth a rental with friends. But to add to one's collection I think I will pass. 3 Stars
Bruce Bruce
Super Reviewer
½
This movie gets stars for intense teeth drilling scenes, but that's what you expect, and there isn't much else.
Curtis Lilly
Super Reviewer
The Dentist Quotes
| | |
| --- | --- |
| Nervous Patient: | Please I've only had 3 candies today |
| Nervous Patient: | Please I've only had 3 candies today. |