Alaska
(1996)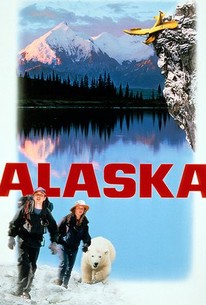 Movie Info
After moving to an Alaskan village with his two children, widower Jack Barnes takes a job as a bush pilot. The son hates his new home, but when his father turns up missing after an airplane accident, the boy and his sister travel into the Alaskan wilderness to find him.
Critic Reviews for Alaska
All Critics (11) | Top Critics (4) | Fresh (2) | Rotten (9)
Beautiful vistas, Thora Birch and a cute bear can't compensate for the routine story and sloppy direction of this old-fashioned family adventure about the courageous efforts of two children to find their missing father.
February 10, 2006 | Rating: 2/5

Charlton Heston, though he has saved the Jews and a whole bunch of other distressed folk in the past, along with painting the Sistine Chapel, can't rescue his son's picture.
March 2, 2003
Really bad performances, an awful script straight out of a TV movie of the week and one of the least appealing, most irritating young heroes in recent screen history
Audience Reviews for Alaska
½
I can't believe that "Alaska" isn't getting better reviews than it is. A movie doesn't have to be one of the best ever to be a great movie. I thought it was a good all around movie. Two teens go on a search for their father after his plane crashes and the police show that they're not willing to search for him as much as the kids think they should be. Along the way, the kids run into poachers and they find a friendly polar bear that follows them the rest of the way trying to protect them. They have to find their father and then figure out a way to rescue him. "Alaska" works well as a good adventure movie and it realistically shows family drama at the beginning of the movie. Surprisingly, parts of it such as when the kids are trying to save their dad, are even exciting. All the way through the movie you'll see spectacular scenery, which goes along great with the plot. Myself, I liked "Alaska" and I don't see why a lot of people don't like it that much, except for maybe that they're expecting too much from the movie. Just don't watch "Alaska" and expect it to be like a movie blockbuster, just watch it like it's a regular Tv movie, and you should like it pretty well. I recommend this movie for anybody. NOTE: That was my Amazon review from the year 2000. Can't say I remember much about this movie now, but I'd love to see it again.
Jason Owens
Super Reviewer
A sweet survival movie that strengthen a brother and sister's relationship.
Sunil Jawahir
Super Reviewer
½
Charlton Heston slums it as a poacher in this wilderness nonsense that sees a pair of american brats climb up and down mountainsides in between bouts of utterly contrived "suspense". They are helped along the way by a friendly polar bear, which are always handy to have around. If they fell in the sea, I presume they'd be saved by a shark who does some volunteer work for the samaritans on the side. Or a box jellyfish with a heart of gold...
Alaska Quotes
| | |
| --- | --- |
| Sean Barnes: | Dad, you used to fly 747s, and now you deliver toilet paper! |
| | |
| --- | --- |
| Jake Barnes: | What's that? It's either a polar bear or the whitest dog I've ever seen. |
| Sean Barnes: | It's a dog. Can I keep him? |