Jack
(1996)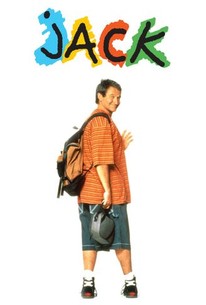 TOMATOMETER
AUDIENCE SCORE
Critic Consensus: Robin Williams' childlike energy is channeled in all the wrong places with Jack, a bizarre tragedy that aims for uplift but sinks deep into queasy schmaltz.
Movie Info
Jack is a boy who is growing normally, but at four times the normal rate. Kept out of school for years, we catch up to him as he enters the fourth grade for the first time, a 10-year-old boy who appears to be a fully grown man in his 40s.
Audience Reviews for Jack
Jack is one of Francis Ford Coppola's most mediocre outings as a director. The film had plenty of good potential of being a great film, but it falls flat and just ends up being mediocre. I thought the film started off well, but it just fell apart as the story progressed. The film could have been very good, but there's something missing to really make this standout. I felt that Robin Williams wasn't that great here, and he has made much better. Considering that such a great director as Francis Ford Coppola directed this, you'd expect a great film. But unfortunately this is among his worst films. Considering that he made The Godfather and Apocalypse Now, it's hard to imagine that Jack is a dud, but it is. Towards the ending, you simply can't wait for the film to end, and it just isn't memorable enough like so many other films. This film simply didn't deliver anything great; in the end it was boring, poorly crafted and overall mediocre. I didn't like this film, and I felt that due to its idea, it could have been so much better than what it turned out to be. Jack is not a film worth seeing, and like I've said, Coppola has done far better than this. This is not a film worth remembering and I think this on its own is a film that is underdeveloped and poorly constructed for dramedy. The film lacks anything great and it lacks any real moments where you end up caring for the characters. I just feel that this tried too hard delivering something sentimental, and ultimately failed.
½
Not the worst movie that I ever see, but the worst movie that Coppola could direct. Jack is the real end of the great filmmaker that made The Godfather. Rotten.
Lucas Martins
Super Reviewer
This movie has such a strange, unreal, outrageous premise, I can't decide whether it's horrible or incredibly interesting. Overall, it's just okay, I guess. Sort of another excuse for a grown man to act like a kid, I guess, and Williams knows how to do that.
Jack Quotes
| | |
| --- | --- |
| Jack Powell: | I don't have very much time these days so I'll make it quick. Like my life. You know, as we come to the end of this phase of our life, we find ourselves trying to remember the good times and trying to forget the bad times, and we find ourselves thinking about the future. We start to worry , thinking, "What am I gonna do? Where am I gonna be in ten years?" But I say to you, "Hey, look at me!" Please, don't worry so much. Because in the end, none of us have very long on this Earth. Life is fleeting. And if you're ever distressed, cast your eyes to the summer sky when the stars are strung across the velvety night. And when a shooting star streaks through the blackness, turning night into day... make a wish and think of me. Make your life spectacular. I know I did. |