Girls Town
(1995)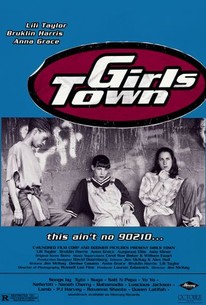 Movie Info
When one of their friends commits suicide, three young women learn to stand up for themselves and strike back against male-dominated society in this drama. Patti (Lili Taylor), Emma (Anna Grace), Angela (Bruklin Harris), and Nikki (Aunjanue Ellis) are four teenage girls who attend the same high school in inner-city New York. Patti is an unwed mother struggling to complete her education as she deals with her irresponsible boyfriend, while the other three are good students going on to college after completing their final year of high school. One day, seemingly without warning, Nikki kills herself. Struggling for clues to explain the tragedy, the other three girls discover her diary and learn that she had been raped while serving an internship at a magazine. As the girls compare notes, they realize that they've all been treated badly by men; Emma was also raped, and Patti sardonically says that if rape is having sex when you don't really want to, then she's been raped by practically every guy she's ever gone out with. Eventually, the three decide that it's time to stand up for themselves and retaliate against the men who have wronged them; they begin by vandalizing the car of Emma's attacker and then formulate a plan to punish the man who raped Nikki. Screenwriter Denise Casano and writer/director Jim McKay developed much of their screenplay through improvisations with the four leading actresses, giving the film's dialogue a natural rhythm and feel.
Critic Reviews for Girls Town
Audience Reviews for Girls Town
Girls Town Quotes
There are no approved quotes yet for this movie.