Bulletproof
(1996)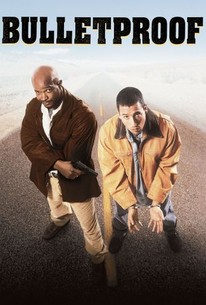 TOMATOMETER
AUDIENCE SCORE
Critic Consensus: In addition to its ability to deflect gunfire, Bulletproof proves sadly impervious to humor, logic, or worthwhile viewing.
Movie Info
This action-packed buddy picture pairs Keats, a black police officer, with a wiseacre white drug-runner named Archie Moses. Working undercover, Keats is assigned to become friends with Moses in order to capture his boss, drug-lord Frank Colton. Keats' problems begin when Moses finds out about the sting.
Critic Reviews for Bulletproof
Audience Reviews for Bulletproof
24/01/2013 (Quickflix, PS3)
EightThirty .
Super Reviewer
½
Archie Moses: Jesus... I gotta learn how to fight; this is pathetic.  "Their friendship could survive anything... except each other." I'll admit when I first started watching Bulletproof, I expected a completely terrible movie. What I got was not good, but it wasn't terrible either. In fact, the film had me laughing out loud on multiple occasions. This is an action comedy starring Damon Wayans, Adam Sandler, and James Caan. As far as the action goes, it leaves a whole lot to be desired. The comedy is there, but not for the whole runtime. There are scenes that are complete comedic failures. Still, I have to admit that I somewhat enjoyed the movie. Not enough to say I liked it, but enough to say it isn't as bad as you may be lead to believe. Sandler and Wayans play two car thieving friends. Sandler plays Moses and Wayans plays Keets. The only problem is that Keets is actually a cop trying to bring down a drug kingpin that Moses works for. So obviously that friendship isn't going to last. The showdown ends with Moses accidentally shooting his old friend in the head. Months later the two have to work together to avoid being killed by the drug kingpin named Colton. It's a pretty straightforward plot. It's simple and unoriginal. They try to throw in surprises, but we've seen this a million times so, there are no real surprises to be seen. As someone who doesn't hate Sandler nearly as much as most, I'll say that I thought he was funny in this movie. It's early Sandler before he got into too big of a routine in his movies. It isn't his best movie and it isn't even close to his worst. It's just an average little action comedy. I think there's enjoyment to be had in watching Bulletproof if you can just accept what it is. By no means am I saying this is a good movie. In fact, it is a bad movie. But it is one of those bad movies that I can enjoy. I'd actually go as far as saying that it is a guilty pleasure of mine.
Melvin White
Super Reviewer
Their friendship could survive anything... except each other! Good funny movie. The story was simple and easy to follow. Popcorn movie to enjoy at home alone or with your friends. Adam Sandler was very funny in this one as always. Rock Keats and Archie Moses are the best of friends and have spent the past year together performing various small time criminal acts. This all changes when they become involved in a major drug smuggling operation. Rock Keats turns out to be Jack Carter, an undercover police officer and tries to arrest Moses during a failed attempt to catch criminal mastermind Frank Colton. However, Moses ends up shooting Carter and makes an escape. Moses is later caught and agrees to turn state's evidence on Colton with one condition, Carter escorts him in. When they meet, both are bitter towards each other. Unknown to them, Colton's men have orders to take out Moses and arrive to shoot down the transport plane. Carter and Moses end up by themselves in the countryside with Colton's men closing in. Will they survive?...will their friendship?
Bulletproof Quotes
There are no approved quotes yet for this movie.