The Associate
(1996)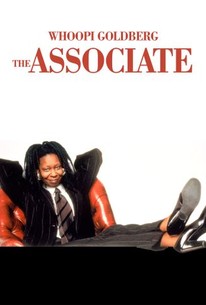 Movie Info
In this comedy, a woman discovers that it's impossible to get ahead in business without a man to guide her -- so she invents one. Laurel (Whoopi Goldberg) is an expert financial analyst with a top Wall Street brokerage; however, she keeps getting passed over for raises and promotions, and she's convinced that no one at her firm takes her seriously because she's a black woman. Frustrated, Laurel and her loyal assistant Sally (Dianne Wiest) open a new firm, but Laurel discovers that her fears were based firmly in reality: male clients don't want to take financial advice from women, especially women of color. So Laurel invents a white man, Robert S. Cutty, to be the firm's top adviser. Speaking on Cutty's behalf, Laurel passes along the fictional man's advice, which her new clients find to be quite sound, and when they stop by to see him, he always manages to be out of the office (and why wouldn't a man so successful be busy?). The ruse seems to work, and soon Laurel's business is going great guns, but an increasingly large number of her clients want to see Cutty face to face, which won't be easy to pull off. However, with the help of a drag queen, Laurel tries to remake herself into Cutty for a night in order to keep her firm afloat. The Associate was based on a novel by author Jenaro Prieto.
Critic Reviews for The Associate
Audience Reviews for The Associate
½
Dianne Wiest and Whoopi make this movie funny. I have been watching this movie for over a decade.
Sunil Jawahir
Super Reviewer
½
Whoopie is fantabulous... She totally bamboozles here.
Leigh Ryan
Super Reviewer
i only roughly remember this one, i think it was decent but i dont care for whoopi much
The Associate Quotes
There are no approved quotes yet for this movie.