Sleepers
(1996)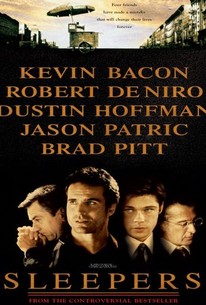 Movie Info
Barry Levinson directed this crime drama based on a controversial bestseller. Jason Patrick stars as Lorenzo, a New York reporter more commonly called "Shakes," a nickname courtesy of his three childhood pals from Hell's Kitchen -- Michael (Brad Pitt), John (Ron Eldard), and Tommy (Billy Crudup). As kids, all four were sent to reform school after accidentally killing someone during a cruel prank. There, the boys were raped and beaten by several guards, including Sean Nokes (Kevin Bacon), a fact that they've kept secret into adulthood. Michael is now a rising star in the district attorney's office, while John and Tommy are founders of the Irish gang the Westies. When Nokes walks into John and Tommy's hangout, they kill him in cold blood and go on trial, defended by a drug-addicted lawyer (Dustin Hoffman). Michael and Shakes conspire with childhood friend Carol (Minnie Driver) and local priest Father Bobby (Robert DeNiro) to free their friends and get even with the surviving guards. Based on a true story chronicled by Lorenzo Carcaterra in his novel of the same name, Sleepers stirred controversy when the veracity of the book was challenged by reporters who could find no documentation of the events described.
Critic Reviews for Sleepers
Audience Reviews for Sleepers
½
Well crafted drama, Sleepers manages to tackle a revenge style story with the right mix of drama that is aided by a great cast of talented actors. I thought that the ideas expressed on-screen were well tackled in the sense that there are several disturbing moments with the first hour of the film. The rest of the film changes gears and goes into a court room drama. Barry Levinson's direction is well done, and we get an accomplished picture that is captivating, powerful and unforgettable. This is a well structured revenge crime drama that uses basic elements of storytelling to really let the tale unfold. Sleepers is engaging, and the Levinson suggests what is happening to the boys off camera, makes this film quite disturbing, but it's done in a way to leave to the viewer to interpret what kind of horrors they face. With that aspect, the film really is impressive as it's engrossing from start to finish, and there are some tremendous talent that is present here. Revenge films are pretty much alike, but the way they're handled make them stand out, and with Sleepers we have a terrific picture that is very well acted and directed, and in that regard it's a memorable genre film that does manage to stand out due to its cast and the way it handles its subject. If you enjoy the genre, Sleepers is a film not to miss, it works on many levels and it's a film that despite its simple plot, manages to be riveting from start to finish. Legal dramas are always interesting to watch because there are so many spins to the story, and with the story that is here, we have something that is entertaining, yet at the same time hard to watch. Luckily the way the subject was handled was very well done.
½
After the massive box-office flop of "Toys" in 1992 and the overlooked, straight to dvd, "Jimmy Hollywood", director Barry Levinson seemed to be in need of some stronger material. As a result, he decided on a couple of adaptations; the first was Michael Crichton's "Disclosure" followed by "Sleepers", the controversial novel by Lorenzo Carcaterra, which served as a reminder that Levinson still had something to offer. Growing up in Hell's Kitchen, four close friends, Shakes (Joe Perinno), Michael (Brad Renfro), John (Geoffrey Wigdor) and Tommy (Jonathan Tucker) fill their days playing pranks and making their own entertainment. However, one of their pranks lead to a man getting seriously injured and they are sentenced to time in the Wilkenson Detention Centre in upstate New York. In the centre they are subjected to beatings and sexual abuse by the guards. Over ten years later, two of the boys take revenge on one of them (Kevin Bacon), which drags up the past and involves everyone they know. What we have with "Sleepers" is a stellar cast, a more than capable director and a story that's purportedly based on fact. There's really not that far you can wrong in these instances but, unfortunately, it's the "based on fact" angle that let's this film down. Everything else is handled with skill, but no matter how well it's delivered, it leaves an aroma that smells vaguely of garbage. It's too far fetched and under closer scrutiny and investigation, the events that writer Lorenzo Carcaterra claims to be true, are unfounded. There simply isn't any evidence of them. Now, if this film just played out as a piece of storytelling then that issue wouldn't exist and you'd be able to sit back and enjoy what this film has to offer. And what it has to offer is plentiful. The cinematography by (Scorsese regular) Michael Ballhaus, captures the look and feel for the times that reflect, in some ways, an urban version of "Stand By Me" in the earlier part of the film and Levinson does a very professional job on his direction duties. Where his strength lies is in drawing out brilliant performances from his impressively assembled cast: Throughout an abundance of familiar names, it's Patric (playing writer, Carcaterra) that get's the most focus but the rest still get enough to work with; Bacon verges on the stereotypical side but still channels an effective sadistic presence; Pitt, in a lesser role (when he was still on the rise) captures the cocksure arrogance required and the always reliable and masterful Hoffman brings a lot of depth and humour with his subtle mannerisms. At the risk of sounding biased, though, it's DeNiro that impresses most as the avuncular priest, Father Bobby. He delivers one of the most endearing and charismatic performances of his career and happens to have a moment in the film where his expression is solely focussed on, as he hears about the tragic and abusive events that took place. He doesn't utter a word, but his pain, anguish and compassion is expressed entirely and powerfully within his eyes. The only drawback amongst the performances is that the greats of DeNiro and Hoffman don't get a chance to share much screen time together. (In fairness, Levinson rectified this in his later movie "Wag The Dog" and subsequently they have shared the screen in the "Meet The Parents" sequels). These two fantastic actors have never really went toe-to-toe on dramatic terms, though, and this film seems like a missed opportunity on that level. As for the structure itself, it's a film of two halves; the first concentrating on the boys' high jinks (again, with great performances from it's young actors - Joe Perrino and Brad Renfro being the standouts) while the latter half descends into a formulaic courtroom drama which stretches credulity and eschews any form of logic in order to deliver the drama. It's during this, that the "true" nature of the story becomes seriously questionable and we're also left with an overhanging, dubious message on justice. Despite these issues, though, there are many highlights to be found and at nearly two and half hours long, it's never dull. Whether or not it's true is another matter but at the very least, Carcaterra has written an emotional and involving tale. Flawed and uneven with a conclusion that simply doesn't convince, but if you're able to sidestep these faults then there's still a great film at it's core. Mark Walker
Mark Walker
Super Reviewer
½
Barry Levinson's tense drama, with great cast become a breathtaking and moving cinematography adaptation of the controversial bestseller.
Lucas Martins
Super Reviewer
Sleepers Quotes
| | |
| --- | --- |
| Lorenzo a.k.a. Shakes: | The future lay sparkiling ahead and we thought we'd known eachothe forever. |
| Lorenzo a.k.a. Shakes: | The future lay sparkiling ahead and we thought we'd known each other forever. |
| | |
| --- | --- |
| Lorenzo a.k.a. Shakes: | Lorenzo: [narrating about Father Bobby] I told him about the torture, the beating and the rapes. I told him about four frightened boys who prayed to Father Bobbys God for help that never came. I told him everything. |
| Lorenzo a.k.a. Shakes: | [narrating about Father Bobby] I told him about the torture, the beating and the rapes. I told him about four frightened boys who prayed to Father Bobbys God for help that never came. I told him everything. |
| | |
| --- | --- |
| Carol: | Mug me or marry me, Shakes. I'm too tired for anything else. |
| | |
| --- | --- |
| Carol: | The man I know is not the boy you remember. |
| Lorenzo a.k.a. Shakes: | None of us are. |