Michael
(1996)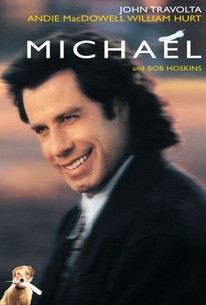 TOMATOMETER
AUDIENCE SCORE
Critic Consensus: John Travolta plays an angel in Nora Ephron's maudlin Michael, a grating comedy that doesn't tap into the heavenly charms of her best work.
Movie Info
Traditionally, angels are supposed to have snowy wings, spotless flowing robes and be bathed in heavenly light, but not Michael (John Travolta). With a hairy pot belly, long hair, a cigarette addiction, an insatiable sugar craving and filthy wings, the archangel Michael is anything but angelic looking. His unkempt appearance and the fact that he is found holed up in a ramshackle boarding house in a beat-up Iowa backwater, makes it even harder to believe that he is anything but a bum. Still when the publisher of the National Mirror, the country's top tabloid learns there may be an angel afoot, he sends three reporters out to cover the story. Slightly embittered writer Frank Quinlan (William Hurt) hopes the story will bust him out of his slump. Hapless photographer Huey (Robert Pastorelli) worries that one more botched job will cause publisher Vartan Malt (Bob Hoskins) to take away his one lucrative gig shooting celebrity wonder-dog Sparky. The enigmatic Dorothy (Andie MacDowell) is supposedly an expert on all things angelic. Together the disparate trio travel to Iowa and meet Pansy Millbank (Jean Stapleton) the aged owner of a run-down rooming house who tells them how Michael miraculously saved her from financial ruin. In return, she allows him to stay at her place. Naturally, the reporters want to meet this phenomenon, but they are ill-prepared at what groggily stumps down the stairs to greet them. From the stubble-faced, boxer-short wearing, smouldering mess before them, they learn that all high-ranking angels are allowed 26 Earthly vacations for all eternity. This is Michael's final vacation and he wants to have fun. The reporters only want to get as much publicity as they can from their ethereal visitor and so set off with him to Chicago. Along the way, they have many funny misadventures.
News & Interviews for Michael
Critic Reviews for Michael
Audience Reviews for Michael
I love this Movie somuch. It makes you believe Wonders happen.
Not one of Travolta's best, but I definitely liked it more than I anticipated I would.
Jason Owens
Super Reviewer
½
Not a great film. Ok, but not that great.
Tim Salmons
Super Reviewer
Michael Quotes
There are no approved quotes yet for this movie.