Touch
(1997)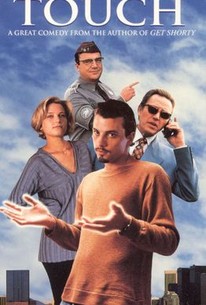 Movie Info
A pacifistic young man heals the sick and becomes a national sensation. Based on a novel by Elmore Leonard and directed by off-beat filmmaker/screenwriter Paul Schrader, this light and lively satire centers on the tempest that soon surrounds the innocent miracle worker. He is Juvenal and comes from Brazil to work in a Los Angeles alcohol rehab center. Along the way, Juvenal matter-of-factly restores a blind-woman's sight and cures a boy of leukemia by touching them each with his hands, which tend to bleed, much as Christ's bled while he was on the cross. To Juvenal, the miracles are commonplace and he thinks little of their import. But others think differently and actively seek to exploit him. The sharks eagerly awaiting the opportunity to prey upon him include former evangelist cum RV salesman Bill Hill, hard-core Christian fundamentalist August Murray, and a self-serving reporter.
Audience Reviews for Touch
Begins with an interesting premise, that an ex-monk has the power to heal, but degenerates into a passel of cliches injected, it seems, simply to finish the work, as if the director took a more important call mid-interview. You will cease to care as well although Tom Arnold heroically behaves throughout as if there were still a film to save.
Kevin M. Williams
Super Reviewer
Tried to write a review and failed so I'll stick with my thoughts while watching the film: "This is exactly the film you'd get if Tarantino brought the rights to The Green Mile."
Marcus Woolcott
Super Reviewer
Touch Quotes
There are no approved quotes yet for this movie.