Metro
(1997)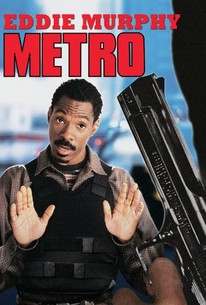 Movie Info
This actioner is set in San Francisco. Ace police hostage negotiator Scott Roper (Eddie Murphy) is assigned to train rookie Kevin McCall (Michael Rapaport) in the finer points of his craft. The training goes well until Roper's closest friend and former partner is killed by crazed but crafty jewel thief Michael Korda (Michael Wincott).
News & Interviews for Metro
Audience Reviews for Metro
Eddie! Eddie! Eddie! why don't you make hard ass flicks like this anymore!!!!? alas poor Eddie, thou maketh such crapeth these days. The last adult action flick from Mr Murphy before he plunged into the 'children's TV' period of his dwindling career, its not a stunning action film but its certainly a pretty good attempt and much better than 'Beverly Hills Cop 2/3'. The thing that hits you first about this film is it looks sharp, the opening credits are damn nice and Murphy looks his coolest since 'Beverly Hills', its a slow builder for sure but with Wincott as the baddie with his raspy devilish voice it keeps you glued to the screen. Another good impression maker is the excellent action stunts, most noteably a great car and tram chase with multiple wrecks which all look realistic, some good tense stand offs and none of it being watered down, a good step for Murphy although at times he doesn't quite nail the gritty realistic acting thing.
Phil Hubbs
Super Reviewer
A classic good time. A wildly entertaining and outrageous action-packed thriller. A fresh, smart, very funny and explosively entertaining movie. One of the first flicks since Lethal Weapon and 48 Hours that balances seriousness and humor perfectly. Director, Thomas Carter crafts a fantastic and enjoyable movie with fast-paced dialogue and awesome action. Eddie Murphy is at his best, he's never been better or funnier. It works well as a cat and mouse thriller and action-packed buddy movie.
The big action scenes are cleverly staged and Eddie Murphy is back on his game again.
Roy Gutteridge
Super Reviewer
Metro Quotes
There are no approved quotes yet for this movie.