La Cérémonie (A Judgement in Stone)
(1995)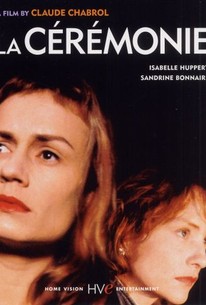 La Cérémonie (A Judgement in Stone) Photos
Movie Info
This French tragicomedy takes place in a remote chateau owned by a wealthy family. To help keep it up, they hire an introverted young woman as a maid. She ends up changing their lives forever. Sophie, the rigid and socially awkward maid with a mysterious secret, is hired by the self-assured and fashionable Catherine Lelievre who lives in the manse with her wealthy husband Georges and their teen-age son. Occasionally the elitist little family is visited by her husband's 20-year old daughter from another marriage. When not working, Sophie is dishwater dull and spends her free time watching television and eating chocolate. Though she is an excellent housekeeper and competent cook, Sophie becomes tense and reticent when asked to perform certain other basic tasks. While working at the house, Sophie becomes friends with the impertinent, outspoken busybody Jeanne who runs the post office. Jeanne is utterly despised by Georges who believes that she regularly snoops in his mail. Like Sophie, Jeanne also masks a dark secret, both of which are revealed when they become involved with a charity project for the local church. In the end, the revelation of Jeanne's secret gets her fired.
Critic Reviews for La Cérémonie (A Judgement in Stone)
Audience Reviews for La Cérémonie (A Judgement in Stone)
After only my first Claude Chabrol film I can see why he is sometimes known as the French Alfred Hitchcock. La Cérémonie is based on the Ruth Rendell book "A Judgement in Stone", I'm not going to reveal too much about the plot because this is one of those films which really does benefit from knowing as little as possible. Instead just watch two of the great French actresses of recent times as the story builds with tension to the chilling finale.
Another great French thriller with one of my favourite actresses: Isabelle Huppert.
John Ballantine
Super Reviewer
La Cérémonie (A Judgement in Stone) Quotes
There are no approved quotes yet for this movie.