The Odyssey
(1997)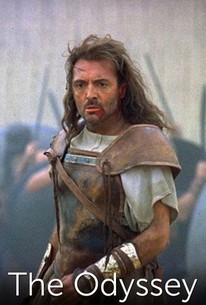 AUDIENCE SCORE
Critic Consensus: No consensus yet.
Movie Info
Utilizing an exceptional international all-star cast and excellent special effects, Hallmark entertainment and American Zoetrope productions created this fun-filled adaptation of Homer's most-famous epic poem. It was originally broadcast as a four-hour miniseries on the NBC network. The story faithfully chronicles the many adventures of sailor Odysseus (Armand Assante), his colorful crew as they encounter a variety of mythical figures, including Odysseus's spiritual guide Athena (Isabella Rossellini), the seductive Calypso (Vanessa Williams) and the treacherous Eurymachus (Eric Roberts). Highlights include the Trojan Horse (made to original scale and filmed on location in the ruins of Troy) sequence. Much of the miniseries was filmed in Europe and on the Mediterranean, making it a feast for the eye.
Critic Reviews for The Odyssey
There are no critic reviews yet for The Odyssey. Keep checking Rotten Tomatoes for updates!
Audience Reviews for The Odyssey
The movie is abhorrently cheesy, abominably acted, badly written, horribly directed, hideously unexciting, atrociously executed, unintentionally hilarious when it wants to be serious, unintentionally unfunny when it wants to be hilarious.
Bram Sterling
Super Reviewer
Terrible special effects, anyway, The Odyssey is a entertaining adventure.
Lucas Martins
Super Reviewer
Kind of corny at some of the parts but it was an awesome movie & even though Odysseus had many trysts while he tried to make it home to Penelope, he never stopped loving her. I also loved the bond between him & his son, Telemachus. One of the best scenes was at the end when Odysseus killed all Penelope's suitors & the other one was when him & Penelope reconnected after 20 years. Just a great movie, especially considering the crap we usually have to watch in school. You'll love it! :)
Cassie Hill
Super Reviewer