Iron Monkey
(2001)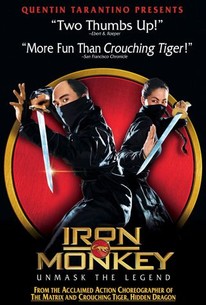 Movie Info
This kung fu classic weaving fact and myth earned a theatrical release in the U.S. from Miramax eight years after it was produced, following a successful retrospective screening at the 2001 Los Angeles Film Festival. Wong Kei Ying (Donnie Yen) is a master of the Hung Gar style of boxing in mid-19th century China. His son, Wong Fei Hung (Sze-Man Tsang), though still just a boy, will grow up to become a martial arts legend, a nearly mythical figure in Chinese history. When Wong Fei Hung is kidnapped, his father is forced to use his daunting skills in the service of the abductor, a dishonest politician plagued by the Robin Hood-style thief known as Iron Monkey, a mysterious masked avenger stealing from the rich, delivering the spoils to the poor. Wong Fei Hung's only allies are the kindly Dr. Yang (Yu Rong Guang) and Yang's assistant, Orchid (Jean Wang), who are protecting an important secret. Iron Monkey (1993) director Yuen Wo Ping is also the masterful martial arts choreographer behind The Matrix (1999) and Crouching Tiger, Hidden Dragon (2000); his father served as action choreographer on a series of popular, long-running films centered around the Wong Fei Hung character in the 1950s. ~ Karl Williams, Rovi
News & Interviews for Iron Monkey
Critic Reviews for Iron Monkey
Audience Reviews for Iron Monkey
½
Super fun times, just avoid Miramax hack version. They ruined the cantonese track with the overblown sound effects they added.
Tsubaki Sanjuro
Super Reviewer
½
Hong Kong kung-fu madness with a Robin Hood themed story. Highly regarded by martial-arts fans, and yeah, the fight scenes are spectacular, as you'd expect from legendary action director Yuen Woo-Ping who has worked in both Asia and Hollywood orchestrating some of the most impressive action sequences ever recorded on film. It's easy to see the influences this film had on the likes of Crouching Tiger, Hidden Dragon. The story and dialogue are very basic though and it's a script a 10 year-old could easily come up with. It's worth watching just for the action.
½
yuen woo-ping is the man. another masterfully choreographed film - the kung fu in this film is just mind blowing. i love watching donnie yen on screen and the scenes featuring a young wong fei-hung were incredibly believable. i loved this kung fu robin hood/superhero story. one of my favorite films.
Iron Monkey Quotes
There are no approved quotes yet for this movie.